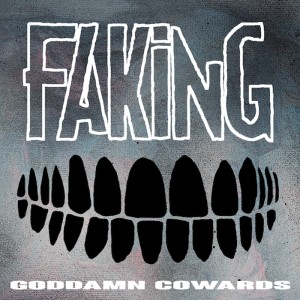 By Jeff McCarthy
Faking is a Philadelphia-based trio made up of Jeff Bowne (Gunna Vahm) on guitar & vocals, Mark Diehl on bass guitar, and Phil Schorn (Gunna Vahm, Midiron Blast Shaft) on drums. Their new album Goddamn Cowards was recorded by Arik Victor at Creep Studios, mixed by Arik and Chris X, and mastered by Doug Milton.  Faking has 3 releases: a self-released demo tape, the Vices 7″, and Goddamn Cowards.
The vocals give a soft kick through the spine out through the back.  The band retracts for another assault of the senses and the questioning of one's own judgement, opening up the body for the the repetition of heavy jagged blades of sonic riffs — only to be forced back in by the ballast of drums larger than life, driving into the frenzy fueled by the bass guitar. Like a rough ride through the mean streets of recollection, this album is through and through a nod to the 1990s music scene, not a recreation or a duplication.  Bands like Team Dresch, Fugazi, Unwound, Shotmaker, Hoover, Slint, Creeps On Candy, and Shellac are clear influences, but Faking is no carbon copy.
There is this essence of early Black Flag/Fugazi/Avail throughout track one "We Are Goddamn Cowards", which of course is kick ass, a definite nod to the past. "Recognize my progress? I used to be filth!" The lyrics bear the evidence of a restrained anger and overall angst against the weak willed and possibly towards oneself, for the inability to do anything against the tide of shit. Or most likely just the shitty populace that isn't getting any less shitty…
Jerry at Reptilian Records writes "Throaty vocals spin minimalist tales of shitty people doing shitty things…." With lyrics like "You're not fine, you're shaking like you're sober" against a haunting riff melded with Fugazi/Downset, Faking's music has an emotional impact.  Chants of "You're going blind, you're not fine," bring that battle close to home.  The last track "Absolute Ambien" just has this personal tone, a familiarity to it: "He keeps falling down, but he (does) not remember falling down."
I talked with Jeff Bowne from the band; he writes the lyrics and at the core the anger seems to be towards the loss of loved ones from drugs and the bad choices associated. Being a recovering addict myself I immediately picked up on all the nuances of loathing and frustration — so I had to ask if he was a addict himself.
"Nope, I just drink, I drink a lot." he said
I thought it best to talk further with Jeff while I had him on the line and asked some of the kind of questions most listeners and readers want to know about.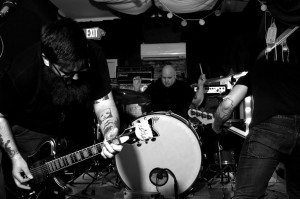 How did this lineup come to be?
Bowne: "I got Phil on board to play drums because we were in Gunna Vahm together.  I met Mark through a mutual friend. He was a guitar player in his past bands but wanted to play bass now. So then I just needed a guitar player. I had a couple friends show interest, but they both kept flaking out when I tried to schedule practice.  So eventually I decided that I'd play guitar for a few practices until we found someone. I had a few riffs to start us off with, but I assumed the permanent guitar player would write most of the music because I've never been the primary music writer in a band before.
5 or 6 practices later I settled in to the position as guitar player (which is a first for me) and still doing vocals.
How did you find the sound you guys deliver?
Bowne: The sound of the band comes from me wanting to do a noise rock band again, but not cross that with the "sludge" aspect that a lot of noise rock bands do these days. I wanted to do something that felt crisp and sharp. The heavy use of reverb just kind of happened. when I started the band I owned like 3 pedals, none of which were reverb, but I started looking for new sounds and developing a playing style along the way.
Where in Philly are you guys out of?
Bowne: Me and Mark live in West Philly.  Phil lives in the suburbs north of Philly. He owns a house with a big barn on the property, and he built a practice room in to the corner of the room  so that's where we practice.  He has chickens and 2 goats. They get to hear the songs before anyone else.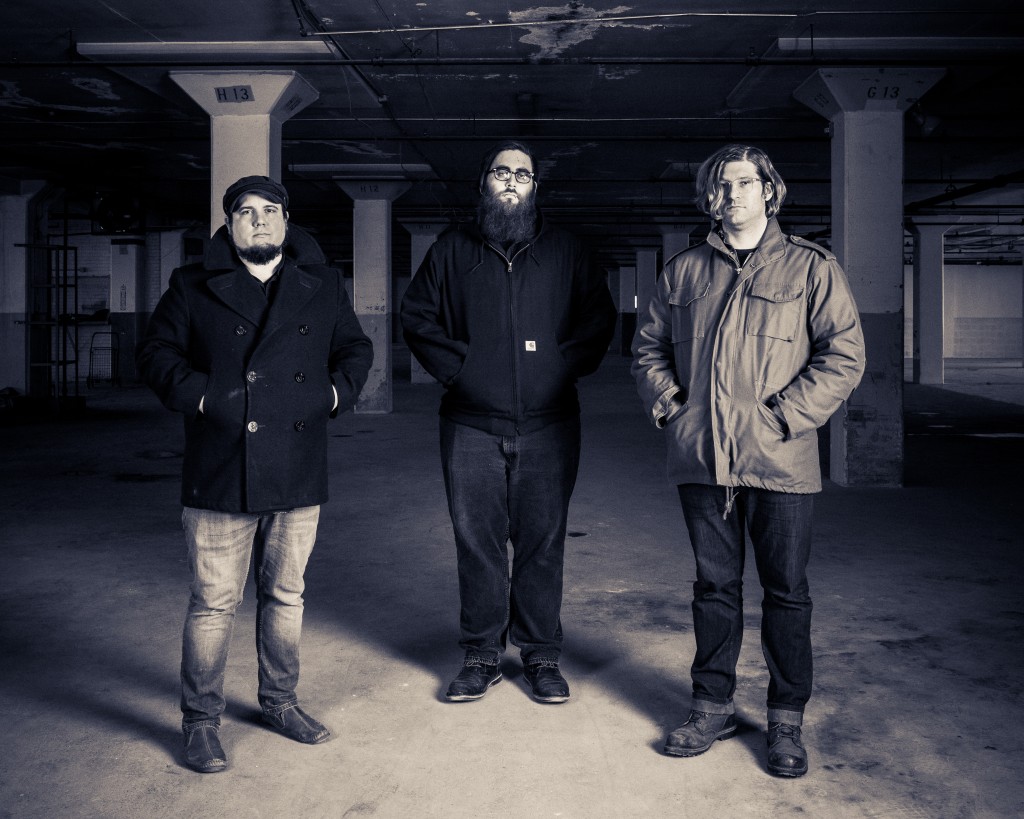 Track listing below for GODDAMN COWARDS
We Are Goddamn Cowards -04:11
Soft Talk -03:53
Grown -03:00
You Got Bored -02:54
Not Fine -03:48
Paul Kern -02:12
Beg & Pray -04:16
The Arrest -04:23
If I Were your Woman (Gladys Knight & The Pimps Cover ) -02:37
Absolute Ambien -04:14
From Reptilian Records:
"The ears don't lie. If you want poser-free noise rock in 2016, Faking is a band that nails it, and Goddamn Cowards is their bloody hammer of a debut album (and second release for Reptilian Records). […]
Driven by massive, wide open percussive battery, and propulsive bass churn, throaty vocals spin minimalist tales of shitty people doing shitty things over intricate, dissonant guitar lines that snake through the menace, adding complex layers of Duane Denison-esque weirdness and upping the creep factor. Blending the aggressive direct-drive chokehold of American hardcore, the angular and insistent rhythms of Shellac, and a general sense of unease, Goddamn Cowards is a late night amber alert on the highway, an audible threat climate built on tension, repetition, and release – a reminder, thankfully, that the world isn't getting any friendlier."
Goddamn Cowards was released 5/27/2016 — available from the band or from Reptilian Records.
For more from Alternative Control, find us on Facebook, Twitter, Instagram, Soundcloud, and bandcamp.
Photos used with permission of the band.