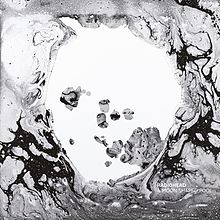 There's no doubt that Radiohead is the poster child for experimental rock in the mainstream. The band has garnered universal acclaim for their daring discography, most notably when they made that potentially suicidal career jump from alternative rock OK Computer indie darlings to electro Kid A laptop nerds. But what could have easily ruined them only skyrocketed their status from experimental music success story to pioneers of art rock in the new millennium.
Since Kid A, the band has released a number of releases to critical acclaim. My personal relationship with them has been generally favorable, though I feel like they get a little too much attention. Arguably, there are musical acts doing far better things within the electro/acoustic/indie rock framework. And their last release The King of Limbs was a big stinker — what I can only surmise as a collection of In Rainbows reject songs. The hype machine started up again when after a five year hiatus, they released their ninth full-length A Moon Shaped Pool.
One thing that's clear from first listen, this is Radiohead at their mellowest yet. The album is filled with gentle string arrangements, watery grand piano, electronic celesta sounds and Thom Yorke's melancholic whine caught in a thick fog of loneliness. It's quite a beautiful offering, almost like a lullaby in places, pensively moving songs like blankets of melodic softness to their conclusions. "Daydreaming" is one of the best things the band has written in years. Piano serves as the song's only time-keeper and its prime emotional speaker, waltzing by itself in a melody that drips with unrequited romance. Around the piano swirls a kaleidoscopic Neverland of bells, chimes, humming Moogs and washes of a string symphony that blow through like gales of wind. It's a stunning track, and one of my favorite songs of the year. "Desert Island Disk" is just as mellow, but instead uses a bluesy acoustic guitar melody to express its apathetic laziness. Drones and despondent electronic tones surround, adding to the marooned feel of bass, drums and guitar content on riding sun-reflecting ocean waves to its end. The effect is simple but pleasant in its minimalism.
The album's unevenness is a bit annoying. The tense and foreboding "Ful Stop" (not a typo), the accusatory anthem "Burn the Witch," and the mumbling groove of "Identikit" are all fine songs, but they muddle up the potential celestial beauty of what A Moon Shaped Pool could have been. Likewise, the mild pop of electronic percussion and all the buzz and glitch that have been a part of Radiohead's music since their electronic beginnings is starting to get in the way of their potential. If the band truly embraced their mellow capabilities, they could have made something truly original and gorgeous. This could have been a neoclassical/singer-songwriter hybrid masterwork if the band scraped all the electronics and went for pure organics for once. Perhaps they've gotten too comfortable with who they are to really want to make another stylistic leap like they did sixteen years ago.
These thoughts haven't ruined the album for me, but I can't help but think of what could have been. This longing envelops me during the last song, "True Love Waits."  Its stark sadness, isolation and devotion to depth of feeling with just simple piano and voice to carry it is like listening to a heart breaking. There's no electronic detachment, just a human pouring out his need for love. It's a template that I hope Radiohead continues to focus on in the future.