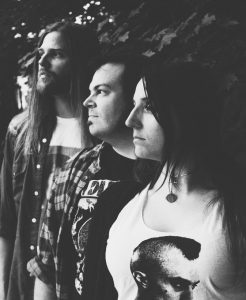 Our psychedelic stoner friends Ghost:Hello are pleased to announce that they will embark on a short East US tour in September.
The band commented "We are super stoked to hit the road and to get to hang with everyone.  We're looking forward to a tour full of the cheapest beers and amicable thumb wars!"
All dates will be in support of the Ohio trio's upcoming album The Sound of Color In Space which will be released on September 20th.
Pre-order the album here: https://ghosthello.bandcamp.com/album/the-sound-of-color-in-space This band also has awesome merch, like Ghost:Hello snapbacks and panties!  Can we get some guest models over here??
Tour Dates
9/20 — Album Release & Tour Kickoff party The Rialto Theatre – Akron, Ohio
9/21 — Pauli's Hotel – Albany, New York
9/22 — The Flask – Portland, Maine
9/23 — Midway Cafe -Jamaica Plain, Massachusetts
9/24 — Dusk – Providence, Rhode Islan
9/25 — The Depot – Baltimore, Maryland
9/26 — The Empty Glass, Charleston, West Virginia
9/27 — Tarot Tattoo StonerDoom Tattoo Extravaganza Volume II – Richmond, Indiana
And for those in the know, you can even preview and download "Burnout" off The Sound of Color in Space on the AltCtrl Summer Sampler.  Get it!
Connect with Ghost:Hello
For more from Alternative Control, find us on Facebook, Twitter, Instagram, Soundcloud, and bandcamp.