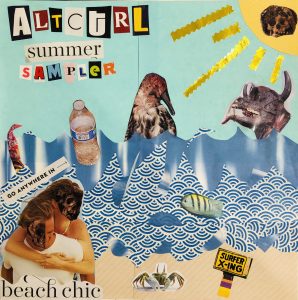 Hey, friends!  After the success of AltCtrl's Volume Doom compilation, I'm endeavoring to release a digital sampler every season.  These comps aren't just any old garbage tracks collected by trawling the depths of Facebook and asking random bands for submissions…  The songs are from GOOD bands that have been featured on the blog.  (And my band, because I'm the editor and I'll cry if I want to.)
Speaking of garbage and trawling the depths, I've been hearing a lot lately about plastic choking the world's oceans.  Connecticut's new plastic bag tax coincided with a trip Mr. AltCtrl and I took to the local aquarium, where the "door guy" yanked the straws out of our Dunkin Donuts iced coffees and stomped on them, saying we were killing the sea turtles….  Okay it didn't quite happen like that, but long story short, half of the proceeds from this compilation will be donated to Greenpeace to support their continued work to protect marine environments.  I'm also taking some steps to reduce my own output of plastic waste and will probably blog about it in the near future, but #noonecares — except maybe those sea turtles.
Anyhow, here's what we've got for ya: nine tracks encompassing just as many metal subgenres, all from bands that were on the blog in late spring and early summer.  The compilation is arranged in alphabetical order by band name.  Download here and read on for some background on each band's connection to the blog!
1. The Age of Truth — "Caroline"
As bassist William Miller put it, it's Philly versus everybody.  These guys wowed the stoner rock scene with their 2017 album Threshold and have a new one in the works for sometime next year.  Miller and guitarist Mike D were an absolute pleasure to interview at Maryland Doom Fest and I look forward to hearing more from them in the future.
2. Casket Robbery — "From Hell"
This is the first death metal song to be featured on an AltCtrl comp in about six years, and it's a doozy!  The title track of this Wisconsin outfit's new album, the blog premiered "From Hell" in early July and brutal frontwoman Megan Orvold wrote us a Nerd Talk column as well.
3.  Devil to Pay — "Troglodyte Jive"
Devil to Pay are truly stoner/doom OGs, starting their hazy journey back in 2002.  Now a part of respected tastemaker label Ripple Music, the band shared this classic from their self-released 2009 album Heavily Ever After.  These midtempo riffs will have all the AltCtrl-heads doin' the troglodyte jive…  Frontman Steve Janiak and I had a long chat at Maryland Doom Fest about what makes his bands tick; read all about it here.
4.  Fumarole — "Ghost Smoke"
These Aussie riff dealers came on the scene with their 2018 EP Mountain and then teased stoner rock listeners worldwide with their April 2019 single "Ghost Smoke," which we reviewed here.  Fans of Clutch and Orange Goblin, keep an ear on these guys — a little emu told us they'll be releasing new music soon!
5.  Ghost:Hello — "Burnout"
These wacky Ohioans were kind enough to contribute a yet-to-be released track from their upcoming album The Sound of Color in Space.  (Review here.)  The trio takes stoner rock in completely unexpected directions, so enjoy your first listen below!  And keep an eye out for Ghost:Hello at a venue near you — they will be playing a run of northeastern U.S. dates beginning with the album release party on September 20th.
6.  The Last Martyr — "Fear"
It's an Aussie invasion over here!  Melbourne metallers The Last Martyr came to AltCtrl through a different avenue — frontwoman Monica Strut is quite the PR maven, and I reviewed her ebook Social Media Shredder here.  Then we became besties and talked on her podcast about how to write a non-crappy band bio and what it's like to get solicited for prostitution on Snapchat. If you're at work, put the headphones in…
7.  Thunderbird Divine — "Qualified"
Or is it a Philly invasion??  Some more friends from the City of Brotherly Love, Thunderbird Divine impressed us with their January 2019 album Magnasonic — read the review here.  A couple months later, singer and guitarist Erik Caplan chimed in with a Show Me Your Patches column, where he talks about passing the battle vest tradition onto the next (adorable) generation.  Thunderbird Divine is signed by the Connecticut label Salt of the Earth Records, so local AltCtrl-heads will surely be seeing these guys around.
8.  Tommy Concrete — "Diplodocus"
The comp is taking a page from Iron Maiden's Piece of Mind with this prehistoric track from Scotland OG Tommy Concrete.  A member of legendary Edinburgh punks The Exploited during the 2000s, Mr. Concrete also has his own bands, a solo project, a blog, and a record label — AND he advocates for people with autism.  But with all Tommy has going on, he still found time to compose a Nerd Talk and a Show Me Your Patches column for AltCtrl.
9.  Turkey Vulture — "Jolene"
Ah yes, the editor's band.  You knew I was gonna sneak one of them in here…  Our punk-inspired cover of Dolly Parton's classic has polarized the underground metal press; the reviewers either have it on repeat or are burning their laptops to delete the promo forever.  It was nerve-wracking for me to put this out with a "rep" to uphold, as small and underground as that rep might be; my other band Owl Maker, with its accomplished singer and guitarist who is not me, is a whole different bird.  In one of many contrasts with that band, I'd been a "singer" *cough* for about four months when Turkey Vulture's debut EP was recorded.  I ain't no Dolly Parton, but I'm happy to say TV's live shows are going swimmingly.  At age thirty-five, after fifteen years of playing bass and guitar in the local scene, that I've finally found my gritty, untrained voice.  Turkey Vulture could be flying to a dive bar near you next year, so buckle the heck up!
 That's what we've got for you on this fine August morning, friends.  Listen, download, and go seek out these bands!
Thank you SO MUCH to the bands for contributing their music to this compilation. It is heartening to see that people care what Alternative Control does.  Half the proceeds from the Summer Sampler will go towards the blog's hosting/maintenance costs in an effort to make running this website a self-funding hobby.  (Or maybe I'll just buy myself a reusable straw on Amazon…)  The other half will be donated to Greenpeace!  #breakfreefromplastic
The collage cover artwork was made from origami paper, National Geographic, Good Housekeeping, and a wildlife calendar.  For more from Alternative Control, find us on Facebook, Twitter, Instagram, Soundcloud, and bandcamp.