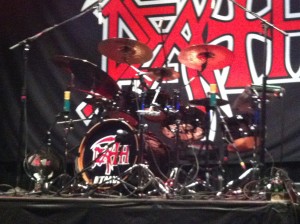 I have to describe myself as a casual Death listener.
My first introduction to the band was through a high school boyfriend who loved them.  He would play Death songs for me on his guitar and I would say, "That's so beautiful!"  Then he would play the CD for me… And unaccustomed to the vocal style, I would be like, "Uh…."
We were on the way back from a concert one night, driving across the Q Bridge and listening to 88.7, when the DJ announced that Chuck Schuldiner had passed away.  Chris was floored.  I thought, "Wow, this Chuck guy must be a really big deal."  Little did I know.  (You know nothing, John Snow!)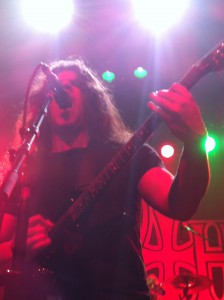 Fast forward eleven or twelve years.  The other night, I had the opportunity to see the Death to All Tour, which features members of Death playing to benefit the musicians' charity Sweet Relief.  One thing I'd learned about Death since high school is that with the exception of Chuck, the band had quite the rotating lineup.  This Death to All incarnation had members from the Human days: Steve Digiorgio on bass, Paul Masvidal on guitar, and Sean Reinert on drums.  Max Phelps filled the empty spot on vocals and guitar.  (Masvidal and Reinert are founding members of the band Cynic, which Phelps joined in 2011.)
Some songs I knew by title, like "Leprosy" and "Left to Die."  Others sounded familiar, but what suddenly occurred to me at this show was how fundamental Death is to a lot of the metal I enjoy.  From bands as close to home as Xenosis to those as far flung as Obscura, Death's music – really, Chuck's compositions – provided the groundwork for bands to come.  I mean, I had known Death was the seminal, OG death metal band… But until last night, I never really knew it.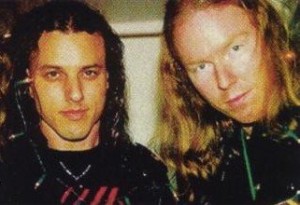 Another thing that struck me (and the rest of the audience) was the slideshow of Chuck that came on before the last few songs.  He seemed like such a laid-back, unassuming guy.  The Godfather of Death Metal: there he is with his dog, there he is at a family dinner… When Alternative Control interviewed Richard Christy, the former Death drummer went on and on about how Chuck was always laughing, Chuck gave him a chance, the Schuldiners took him in for Thanksgiving…  It's clear that Chuck meant a lot to so many people, and not just for his music.
So, friends, be prepared for me to download a couple albums and try to be a hipster by talking Death trivia at upcoming summer get-togethers.  I might also try to become a Steve Digiorgio hipster because seeing him up close was pretty fucking amazing – as was this big bass solo he played towards the end of the set.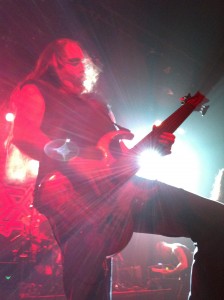 Check out some more photos from the show on Alternative Control's Facebook page: many of my new buddy Steve, as well as a few of the one of the opening bands, Anciients, a Canadian stoner-metal outfit that I really enjoyed.  I can't think of a good conclusion, so…. PULL THE PLUG!