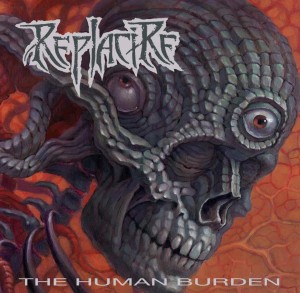 I had the pleasant opportunity to witness Replacire at Acoustic Café last March with local favorites No  Remission and Xenosis. I didn't know what to expect, but Xenosis lead guitarist Mark Lyon seemed very enthusiastic about them, so I decided to give them a chance. It's a good thing I stuck around to watch them, because they were certainly remarkable.
My first impression might have had something to do with the tight stage space the five of them were crammed into, because from the very beginning of their set, all I could see was hair. Seriously, pretty much all of the members must have had ten pounds of hair between them. Their synchronized head banging made it seem like one multi-colored, lustrous mop monster had crawled up on the stage, growling at us. So yeah, the heavy metal image was in full force. But, did they have the music to back it up? Absolutely. Their musical presence was imposing, destructive, and yet highly structured – like a mathematical equation that builds a fantastic musical architecture that adds up to a code for destruction. I grabbed a CD to see if the studio recording happened to back up their live presence, and I'm pleased to say that The Human Burden did not disappoint.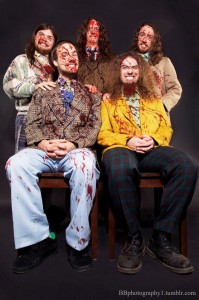 As I've said, the music here is definitely heavy, mathematical and precise. This isn't a mere Meshuggah or Dillinger Escape Plan clone however. There's a warm, organic kind of presence to the music here that keeps it from sounding too mechanical and robotic. Clean vocals, melodic proggish riff workouts and a strong sense of classic songwriting mixed evenly with death growls, pummeling breakdowns and Necrophagist-type guitar solos really make this album seem like both an adventure into unfamiliar metal territory, but also a testament to their various influences.
In short, if I had to make comparisons, Spiral Architect and Psycroptic's baby would be a close representation.  The production on this thing is amazing as well, which for me is an important factor. Music like this needs to be clearly and cleanly produced to come across the way that it needs to. To put it bluntly, Replacire has made a convincing statement on their validity in the underground metal scene, and I'm sure there's plenty more tricks these guys have in their arsenal. I hope their music keeps on coming, and that their incredible hair just keeps on growing.
Make sure you check out their website and Facebook page, and support these guys! I know I'll be going back for more.