Twenty-seven years ago, a Kansas farm kid named Richard heard Van Halen's new song "Hot for Teacher" and begged his parents to buy him a drum set.  Today you know that boy as Richard Christy, former drummer for Death, Iced Earth, and many more bands – and currently the drummer and primary composer for his own project, Charred Walls of the Damned.  Christy talked with Alternative Control on January 13th about CWOTD's second album, upcoming news from Control Denied, and his journey from a ten-year-old Van Halen fan to one of the most well-known drummers in metal today.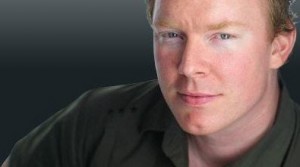 "'Hot for Teacher' blew my mind," he said. "It was fifth grade, the same year that school band started.  I went to band class on the first day of school and I've been a drummer ever since."  His music teacher Willie Abate was an accomplished drummer in his own right, and soon saw potential in his young student.  "He came up to me and said 'You should really stick with playing drums.'  I was like eleven or twelve, and that really inspired me.  He's one of the reasons I stuck with it – and he still teaches band in Kansas.  He even hung up a Death poster in the band room!"
Christy moved to Florida in his early twenties to pursue the death metal music scene, living in a storage locker with his drums for several years.  "It was rough, but I did it for metal and the rent was cheap," he said. "Besides, I was practicing five or six hours a day at that time, and my drums were there…"  (Fun fact: Richard's time in the storage unit inspired the CWOTD song "The Beast Outside  My Window" – a tribute to his gratitude for the fact that he now has a window to look out of!)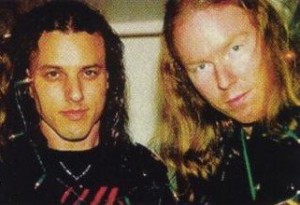 The cramped quarters and garden hose showers paid off, though.  He joined Death in 1997, toured with them, and played drums on their famous 1998 album The Sound of Perseverance.  When asked about his favorite musical experiences, Christy said, "The Sound of Perseverance is the album I'm most proud of.  I'd been a huge Death fan since high school, and I was really blown away by (past Death drummers) Sean Reinert and Gene Hoglan.  I worked really hard to audition and Chuck gave me a chance […] Working with Chuck was amazing – watching him come up with guitar riffs was just mind-boggling."
Christy also played in Schuldiner's progressive metal project Control Denied, recording drums on The Fragile Art of Existence and yet-to-be-released When Man and Machine Collide.  During the four years they spent playing music together, Schuldiner and Christy formed a close bond.  "I used to spend a lot of Thanksgivings with Chuck and his family, back in the storage locker days […] And at band practice, we were always laughing.  […] Sometimes I hear a joke and think 'Oh, Chuck would have laughed at that.'  I miss him every day."
Since Schuldiner's untimely passing in 2001, Christy has recorded albums with Burning Inside, Leash Law, and Iced Earth.  He started CWOTD in 2009 with producer and Trivium guitarist Jason Suecof, bassist Steve Digiorio (who had also played in Death, Iced Earth, and Control Denied) and former Iced Earth/Judas Priest vocalist Tim "Ripper" Owens.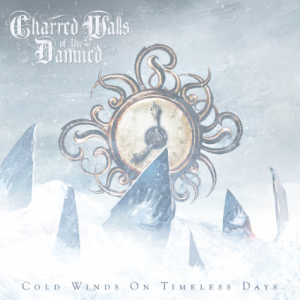 CWOTD released their second album, Cold Winds on Timeless Days, with Metal Blade in October 2011; this followed a 2010 self-titled debut.  The music can be described as a mix of power metal, traditional death metal, and thrash; Ripper's soaring vocals provide a nice contrast to heavy riffs and an undercurrent of complex drum work.  Christy is at the helm of CWOTD's composition process; he writes the music, lyrics, and some vocal patterns, and then sends a demo to his bandmates for their feedback.  "The demo is a rough blueprint," he said.  "Once the other guys get ahold of it, it gets much better because they add their ideas."
CWOTD hopes to play some festivals in 2012, depending on how the band members' schedules align.  Christy is also optimistic about the release of Control Denied's second album, saying that it's just a matter of recording vocals, bass, and Shannon Hamm's guitar parts.  "It will happen eventually, but it just takes a little while to get everybody together – and once it comes out, people are gonna be blown away.  […]  It's something that Chuck would have wanted."
When Christy isn't playing metal, he has his fingers in a lot of other pies: in addition to his "day job" on the Howard Stern Show, he directs movies and acts.  When he does get some time for relaxation, he enjoys having a beer and hanging out with his wife in their New York City apartment.  His beta fish Rusty also keeps him company.  Rusty isn't quite the same as Christy's childhood pal Chunk, a beagle – yes, named after the Goonies character — but he does jump out of the water on command.
And Pluckman, this is what Richard wants you to know about the Dusseldorfian Beer Festival: "If you remember it, you weren't really there."
Listen to Charred Walls of the Damned tracks on Facebook and visit Christy's site to find out more about his many endeavors!
And keep it fucking metal!