When I first heard about the Women's Marches in December, to be held around the nation on January 21, 2017, I knew this movement was something Alternative Control had to report on.  No matter how the mainstream media painted it, we the intrepid indie journalists would be there, marching and documenting what no one else would!
As it turned out, there was plenty of press coverage.
What started as one march in Washington D.C. spawned over 600 satellite marches, not just in the United States but around the globe.  By the end of the day on Saturday, news outlets were calling the Women's March the largest one-day protest in U.S. history, with 3.9-4.2 million people attending in this country.  Granted it was a protest held across many locations, but that's still more people than the entire population of Connecticut.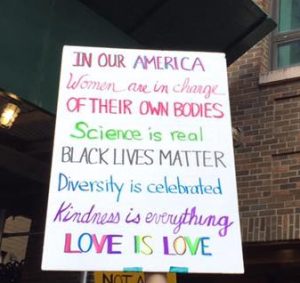 The marches were held in support of many different human rights causes, including a woman's right to choose, access to affordable healthcare, defense of a free press, and dignity for groups who do not fit into the cookie cutter of "straight white American citizen."  Marchers sought to put President Donald Trump and the conservative-controlled Congress on notice: try to turn back the clock on America, and you'll all be out of jobs within two to four years.  President Trump mocked the marchers via Twitter the next day, writing, "Watched protests yesterday but was under the impression that we just had an election! Why didn't these people vote?"  Bold words for someone who lost the popular vote by over three million…
Watched protests yesterday but was under the impression that we just had an election! Why didn't these people vote? Celebs hurt cause badly.

— Donald J. Trump (@realDonaldTrump) January 22, 2017
But you could read all that on your Facebook feed.  What about those intrepid indie journalists?
Well, my friend and fellow "nasty woman" Nicole met me at the Stamford train station, where we donned our pussyhats (knitted by our talented buddy Carrie) and waited for the 8:55 express to Grand Central.  Immediately identifiable as marchers, we were met with words of encouragement and solidarity from several complete strangers.  And since Carrie had knitted us some extra pussyhats to hand out, we soon became very popular.
The train wasn't as packed as we thought it would be, but there were many nods and greetings from others who were attending the march.  Nicole and I had both brought bandanas to cover our faces in case of tear gas, and chuckled at the absurdity of a therapist and a school librarian masking ourselves like bandits.  But underneath, we were apprehensive after seeing videos of violence during the Inauguration Day protests.  Certainly we weren't going to New York to throw rocks or burn trash cans.  But what if we got stuck in the middle of people that were?
We arrived at Dag Hammarskjold Plaza around 10:30 a.m., while it was possible to get in and move around.  However, that didn't last long.  As the crowd swelled, police moved the barricades back to accommodate.  Still, there was soon no room to move.  People in the apartments around the plaza cheered the giant crowd from their windows, and children inside the adjacent Holy Family Church chanted "Women's Rights!" from the vestibule.  (Or at least that's where it sounded like the voices were coming from.)
Speakers began about an hour after we arrived, with Brooklyn-born actress Rosie Perez emceeing.  A surprise speech by Whoopi Goldberg sent cheers through the crowd.  "This change is on us," she extolled the marchers.  Cynthia Nixon and Dame Helen Mirren were also in attendance.
After the speakers, it was time to march — or so we thought.  We stayed along the barricade, inching our way forward when it was possible.  But despite the calls of "Let's go march" that erupted periodically, the people in the plaza were not going anywhere.  Nicole and I passed the time by eating our snacks and taking pictures of signs, but around 1:30 we decided it was time to jump ship.  The barricades had openings where people could leave the march; we ducked through one and walked along the side of the plaza towards First Avenue.  At this point, we could see just how much the crowd had grown since we'd arrived three hours before.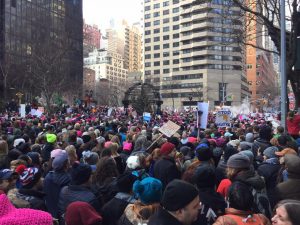 We walked down First Avenue towards East 42nd Street, seeing many protestors still walking towards Dag Plaza.  We continued to make swift progress once we turned onto East 42nd…  Until 42nd Street became part of the march route, at 3rd Avenue.  (I think.)  As far as we could see, it was a behemoth of pussyhatted protestors, crawling slowly westward.  No wonder we couldn't get out of the plaza!
The closer we got to Grand Central, the more impassable the sidewalks became.  Photographers and protestors lined the bridge above, holding a triumphant "Pussy Power" banner over the crowd. We cut across the march and over a barricade to get to the right side of the street, but then there was no moving forward.  Inching the last block towards the entrance, we could see a steady line of people flowing out of Grand Central and joining the march — and here we were, the little salmon fighting upstream.
But finally we made it into the train station, and to the blessed ladies' room without having to pee on the sidewalk.  By 2:30, we were on a train back to Connecticut.  While Nicole and I didn't make it all the way to Trump Tower, we did a lot of "standing" for the cause and even marched a little bit in our quest to get back to Grand Central.  Plus, we got to see Whoopi Goldberg wearing a pussyhat!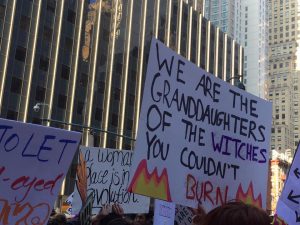 What we saw of the march was peaceful and all news accounts I've read have said the same.  With the sheer numbers in attendance — 400,000-500,000, according to reports — any rock-throwing or trashcan-burning would have put many people in serious danger.  Kudos to the New York City Police Department for keeping things on the right track; the officers were polite and helpful to the marchers, and in turn the marchers represented their movement well.  I was glad to get the hell out of there, but I'm also proud that we went.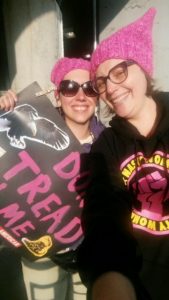 Do you want to get involved?  Visit 10 Actions in 100 Days to learn how.
Sources and Further Reading:
For more photos of protest signs and pussyhats, visit Alternative Control's Facebook album.
And for more from Alternative Control, find us on Facebook, Twitter, and Instagram.