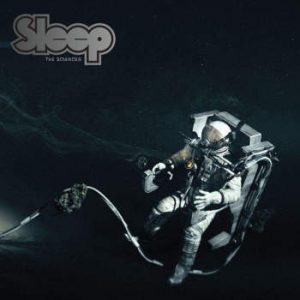 The fact that Sleep managed to release a surprise album in this modern age of download culture is pretty staggering. News always seems to leak out about events such as this. Add to it the fact that a well renowned stoner metal band released their first album in 15 years on April 20th, and it's almost stupid that no one put together the pieces, or even bothered to look into the chance of it happening. Friday is the traditional album release day in the United States. April 20th fell on a Friday this year. We should have been prepared for all kinds of surprises in the stoner rock genre.
An even nicer surprise is the fact that The Sciences is rather awesome – a strong comeback for a band that was never the most prolific group when they were an active unit. It would have been easy for them to lose the ingredients that made Sleep such an inspirational force in metal. Luckily, the trio has a lot of new sounds and great music to fall back on these past 15 years. Their experiences with High On Fire and Om have kept their talents and creative energy well oiled. Returning into the studio together, I can imagine the process to be quite natural. These songs carry the old Sleep trademark with a revitalized heaviness and meditation derived from the members' recent projects.
"Marijuanaut's Theme" kicks things off fittingly with the sound of a bong. The high has begun. What follows is a toasted and dirty ritual to the cannabis gods. The song rips at mid-tempo in a steady line of crunching riffs, rolling bass and hippie shamanism vocal patterns. Matt Pike rips a solo near the end that's full of Valhalla mountain power. "Antarcticans Thawed" is a clear highlight here. It's the album's longest track at over 14 minutes, running on pure drone power. The repetition only gets more and more intense, morphing as it mows across glaciers and picks up the weight of snowfall along the way. Singer Al Cisneros rambles through icy lyrics that remind me of all kinds of frozen continent science and folklore – climate change, Lovecraft monsters and endless February blizzards. "Giza Butler" is an obvious tribute to the Black Sabbath bassist, starting out as a bass guitar hymn, then growing into a slow and percussive march across the desolate countryside. It's as if Geezer himself was making his way across a field of fallen comrades in the upcoming American Pot Legalization War, stumbling towards the last remaining whiskey bar and pot dispensary in town. (My analogies are very particular. Deal with it.)
I very much enjoyed this release. It's Sleep music just as us fans always remembered it. There's no need to analyze how it stacks up to the musical importance of albums like Holy Mountain and Dopesmoker. The stoner metal genre is overloaded with music, so what could this album possibly offer that other bands haven't already? What it offers is great music from the fucking originals. Smoke up and celebrate.
For more from Alternative Control, find us on Facebook, Twitter, Instagram, Soundcloud, and bandcamp.