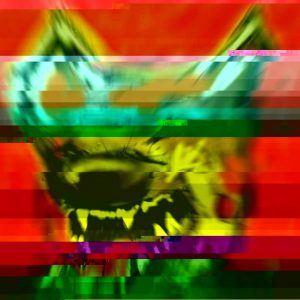 When I read QOHELETH's press release, I knew the California noise rockers would be dishing out some crucial Nerd Talk.  "Built on the aesthetic that all questions should be asked and all answers should be questioned," this band's sophomore album Black Kite Broadcast certainly raises a lot of questions.  They've created a post-apocalyptic radio show that takes place after a mysterious future disaster called the Black Kite Crisis, and the present dimension can learn all about it on April 27th, 2018 (tomorrow!) via Bad Cake Records.  Black Kite Broadcast is a jarring, unusual, and detailed work, called "one hell of a concept album" by critics of the genre.  Listen/preorder here, and check out some of QOHELETH's intellectual inspiration below.
Books
Mike /// This one is tough for me because I don't read a lot. I love Perelandra from C.S. Lewis. It paints a picture of light and dark spreading to other planets while simultaneously in-naming God, making the idea more cosmic. I also like The Green Arrow: Year One graphic novels.
Caiden /// Notes from the Underground may not be Dostoevsky's greatest book but I do think it's the most reflective of his own character and perspective. It is so open and bare, it's painful to read. I actually found myself turning away from the book like I was watching a stranger disrobe in front of me. To know oneself is a conquest in its own right, but to know, have the powers of articulation to describe it – and make the choice to express it to the world puts the writer and the work in a totally different bracket.
Jeremy /// At any given moment, my knee jerk answer to this would be a book from either Stephen King, C.S. Lewis, or Flannery O'Connor. Like Mike, I love Lewis' Space Trilogy. And King's Dark Tower series looms large in my adult life, much as Lewis' Narnia series did when I was a kid. But it's hard to top the impact that O'Connor's short stories have had on my creative process, how I view the world, and ultimately how I wrestle with deep philosophical/spiritual questions. So I'm gonna go with her collection, A Good Man is Hard to Find and Other Stories. The short story itself, "A Good Man is Hard to Find," wrecked me when I first read it in college, and 15 years later, I still can't shake it.
Video Games
Mike /// Madden 17 and any Tony Hawk game. I'm a total football junkie and I love anything skateboard related.
Caiden /// Mass Effect (extremely nerdy selection) was the video game I felt the most immersed in. It's gigantic in scope – and the freedom of going where you want, when you want and being a total badass when you get there is too much fun. You get to determine your level of collaboration versus isolation, with each option carrying its own consequences. All decisions you make have weight and impact in the game. I was fascinated to see who my character had become by the end of the game and horrified by the morally neutral avatar I created.
Jeremy /// I'm an unabashed fan of the Halo series, in all its iterations. But my first video game love was an old side-scroller series from Apogee Games called Commander Keen. It was the first game I played on our old 286 DOS-based PC when I was a kid. It told the story of a boy named Billy Blaze who built his own rocket ship, crashed on Mars and had to go across the planet, fighting the Vorticons and gathering parts of his spacecraft to get back home. He had a little blaster and pogo stick, there was a hidden alphabet you could discover and decode in order to find other clues, it was a total blast!. And bonus factoid: I think in some weird way he's actually related to the main character of the Wolfenstein series.

Movies
Mike /// I have a two-way tie currently between The Big Lebowski and Scott Pilgrim vs. The World. Lebowski's a classic with crime, sex, drugs, and comedy, while Scott Pilgrim is one of the most underrated films of the last decade. It's incredibly witty and the music is so damn good.
Caiden /// Sunshine is, for me, the best representation of the archetypal desire to be alone with God. The film is a slow progression from hope and idealism to raw, self-centered delusions. I think it ultimately puts its finger on our deepest desires for elevation over everyone else at the cost of anything.
Jeremy /// This is really tough. I absolutely love film as a medium for storytelling, so I have a ton of movies that I adore. I could easily pick Lebowski with Mike or Sunshine with Caiden. I'm constantly quoting the former and the beauty of the latter is stunning. But I'll just go with my standard response for now: John Carpenter's The Thing. Carpenter is one of my favorite filmmakers. His DIY approach is a huge inspiration and The Thing is just unstoppable. The story is a perfect microcosm of fear and paranoia, themes that only seem to get more and more relevant as time goes on. The practical effects still work without being dated, and the cast is topnotch. I love this movie on so many levels.

To stay up to date on QOHELETH's dire universe, follow them on Facebook and Twitter.  And for more from Alternative Control, find us on Facebook, Twitter, Instagram, Soundcloud, and bandcamp.