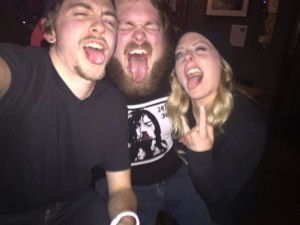 By Jonathan Hammer
Has your life been lacking something lately? Have you woken up in the morning and just wished that there was more grit, more edge – more soul? This Criminal Soul, a god damn rock n' roll band combining the sounds of Motörhead, The Violent Femmes, and any other aggressive rock you can think of, has the answer for you. This 2013 Connecticut band has not only written, produced, and performed their own full-length Rock Opera – The Devil Plays Poker – but they're also ripping through the CT bar scene, making a name for themselves while crowds make noise for them. I got a few minutes to interview Christoph Whitbeck, vocalist and guitarist of the band, and their new bassist, Gretchen Werda, to get some of their own thoughts about the project, the future, and the CT music scene.
Hey, thanks for taking the time to do this! Having seen This Criminal Soul live before, I gotta say: you guys have one hell of a presence on stage. How would you describe your band, and does that description differ from how the band portrays itself on stage – is the live performance meant to be its own art form for you guys?
Christoph Whitbeck (Guitar, Vocals) – CW: Thanks so much!  We love performing a lot, but definitely the stage show is something crafted. Our practices can get pretty goofy sometimes; I try to start us off with an agenda, like what we need to work on, but once that's done we just go off on musical tangents, screaming Miley Cyrus lyrics and watching funny YouTube videos or whatever between running songs. Our show is more focused; we try to put the songs in a meaningful arc that makes sense. A lot of the stuff [we write] is pretty emotionally charged, so I try not to give the audience (or myself) cathartic whiplash between our goofy nature and the heavier lyrics. I guess I would describe the band as ambivalent on that spectrum, strongly drawn in both directions.
One of my favorite things about your band is that you guys seem to like to push the boundaries of what's expected for rock music; in 2014, you put out The Devil Plays Poker, a 17 track CD for the rock opera of the same title which incorporates all of its music. How do you feel that music represents the overall purpose of the band, and do you feel the new material you're writing is in the same vain?
CW: The Devil Plays Poker was sort of its own project at the time. I didn't have a band yet, I had just wrapped up a promotional surge for my solo album, and I had this play written and wanted to follow through on the momentum I'd built up. It went well, but after we were done with the show as a play, and finished recording the album, the other musicians involved weren't particularly interested in playing rock shows, and that's all I wanted to do. I think my musical purpose has always been to merge these two worlds, the classical idea of like Proscenium Theatre – come in sit down quietly, no food or drink in the theater, whatever – and the raucous rock and roll show in a dive bar. One of my favorite things is to book [the opera] on a local rock bill and be bookended by local or touring bands; people usually do a "WTF?!" double take when the performers show up in costumes and we pull out the fake guns.
The newer material, lyrically, is more a collection of stories of my life, as opposed to this grand work of fiction. I still try to keep the performance theatrical, though it's more as a storyteller than a fictional character. And the next-next record may very well be a return to the feature-length theatrical operation. As for the music we're making now though, it rocks WAY harder, it's a ton of fun to play live, and less characters wind up dead onstage, which is a nice change of pace.
If This Criminal Soul was a food, what kind of food would it be and why?
CW: Fuckin… pizza.  idk is coffee a food?  Okay seriously though, Mamoun's falafel. Satisfying, good for you, vegetarian, so like there's some positive moral implications. Local, independent, and the sauce is fucking fire. Our sauce is liquid hot fiyaaaa!
Gretchen Werda (Bass) – GW: Beef stew.  Beef stew is my answer.  Because you've got the beef and we get pretty beefy at times you know with our heavier licks, but then you've got the carrots and celery and vegetables which give you a slightly more bountiful organic profile. It feels natural. Then you've got the stock, hearty and soulful, groovy gravy if you will.
How do you feel the music scene in Connecticut has taken the band's work and live performances, and what do you think this says about the overall arts community?
 CW: We get a lot of positive response at shows. Our live show is definitely the core of our interaction with other artists. I think we're probably better in general at making friends than making like 'professional contacts' as far as growing in the music scene, but oftentimes we'll play a show and be invited to play back at that venue or jump on a bill for another show with one of the bands that's playing…so like there's definitely a community of support present at every show now and that's a beautiful thing to witness and join as an artist. It's also nice to give back by setting up the bill and independently promoting a show myself, like "Green Christmas" or most of The Devil Plays Poker performances. The CT music community, like many others, is in a big part what you make of it, and I love it.
What is the funniest moment you guys have had during a performance as a band?
CW: At "Green Christmas" (this stoner rock/jam band show I put together for the Saturday before Christmas at the Outer Space), Santa Claus showed up and gave presents to everyone who was wearing an ugly sweater. It was amazing—and ridiculous. OH! Speaking of unexpected guests, we did have a dude sort of crash the stage during our set at "Wicked Webs," which is this awesome Halloween music festival in Middletown and he SHREDDED on a kazoo for [our song] "Ride or Die," which has an extended interlude when we play it live. We did encourage him and I was like trading 4's with the dude for maybe 5-10 minutes. Awesome, hilarious.
Thanks for your time! Is there anything else you want to say?
CW: YEAH!  We have a new bass player her name's Gretchen and she fucking rules. Come see us live!! I don't like to brag really but we have a ton of fun at shows, and the more the fucking merrier. And my publicist (haha, just kidding!) says that you have to go like us on Facebook, and also make sure you click 'follow: see first' so that you can see our updates when they happen! Rock on, we'll see you out there!
Upcoming THS Shows:
2/27 @ Main Street Tavern in Stratford
3/3 @ Cafe Nine in New Haven
3/11 @ Three Sheets in New Haven
For more from Alternative Control, find us on Facebook, Twitter, Instagram, Soundcloud, and bandcamp.