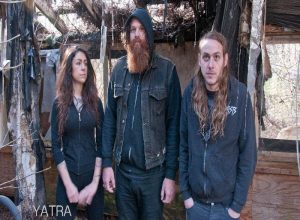 One band I've been hearing a lot of buzz about recently is Yatra, a doom trio based in Maryland.  Taking their name from a Hindi word that means "journey," they've been on my "I should check them out" list for months — and if they're on your list too, you'll be able to see them live on Day Three of the New England Stoner and Doom Festival alongside A Pale Horse Named Death, Curse the Son, and many more.  (Facebook event here.)
Winding, bluesy riffs and Dana Helmuth's Dopethrone-esque snarl make for a foreboding listening experience.  Yatra's debut album, aptly titled Death Ritual, incorporates psychedelia, spirituality, and a mix of influences from metal subgenres in a work that's making a mark on the underground scene.  Have a listen to the fourth track "Snakes in the Temple" below:
Not a local-to-Connecticut reader?  Yatra just might be journeying to a town near you.  Here are their upcoming live appearances:
5/02 Worcester, MA – Ralph's
5/03 Portland, ME – Geno's
5/04 Pawtuckett, RI – News Cafe
5/05 Jewett City, CT – Altone's – New England Stoner/Doom Fest
https://www.newenglandstoneranddoomfest.com
5/15 Memphis, TN – Growlers
5/16 Austin, TX – Beerland
5/18 Toas, NM – Taos Mesa Brewing Mothership – Monolith on the Mesa Fest
https://www.monolithonthemesa.com
5/19 El Paso, TX – Lovebuzz
6/07 Ocean City, MD – Trader Lee's
6/08 Milton, DE – Brimming Horn Meadery – Viking Fest
6/09 Brooklyn, NYC – Sunnyvale
6/13 Indianapolis, IN – State Street Pub
6/14 Wichita, KS – Kirby's
6/15 Denver, CO – Mutuny – Electric Funeral Fest
https://www.facebook.com/events/395132727902888/?ti=cl
6/16 Albuquerque, NM – Moonlight
6/18 Tempe, AZ – Yucca Taproom
6/19 San Diego, CA – Tower Bar
6/20 Pasadena, CA – Old Town Pub
6/22 Medford, OR – Bamboo Room
6/23 Portland, OR – High Water Mark
6/24 Tacoma, WA – Airport Tavern
6/25 Seattle, WA – Funhouse
6/26 Spokane, WA – Mootsy's
6/27 Kalispell, MT – Old School Records
6/28 Great Falls, MT – Back Alley Pub
6/29 Mandan, ND – The Strawberry
6/30 Fargo, ND – The Aquarium
7/01 Chicago, IL – Chop Shop
7/02 Canton, OH – Buzzbin
7/03 Buffalo, NY – Mohawk Place
For more from Alternative Control, find us on Facebook, Twitter, Instagram, Soundcloud, and bandcamp.