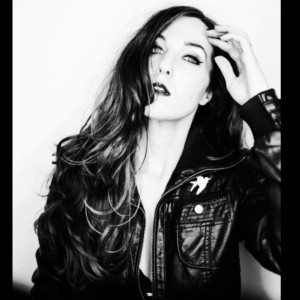 Jessica Lee Wilkes plays attitude-laden rock n roll, drawing on the classic sounds of the 50s but with a modern twist and a whole lot of fire. On her debut EP, Lone Wolf, the current Dirt Dauber (and wife of Legendary Shack Shakers/Dirt Daubers front man J.D. Wilkes) delivers a master class in the art of rock n roll. The songs are catchy, driving and full of of grit, with her voice tying the whole record together.
Since she'll be performing at Cafe Nine in New Haven on July 20, we thought it would be the perfect time to send her some questions on a variety of subjects, including her inspirations, songwriting process and the differences between playing an upright bass and electric bass, among others.
Below are her answers.
What made you decide to start your own band? What were the reasons for doing it? 
It has been something I've been wanting to do for quite some time now. For the last six years I've been playing upright bass and co-fronting The Dirt Daubers with my husband, J.D. Wilkes, and it's been a blast. J.D. has a new record coming out with the Shack Shakers this year and we were planning on taking some time off from the Dirt Daubers, so the timing was right for me pursue my own thing.
Your music mixes of parts of classic rock n roll and serves it up with a modern twist. What attracts you to this kind of music? Is that what you mean by the statement "Raw, rhythm and blues-tinged rock n roll from a bygone era yet to come"?
Well, I like a wide range of music, but I'm definitely drawn to that old-school era of Rock 'n' Roll. Really, I like anything that's delivered with some fire behind it. Good melody, good lyrics, and an artist with conviction behind their performance is what draws me in, regardless of the genre. That's what I hope to do with my music. It's clearly inspired by 50s Rock 'n' Roll, blues and R & B, but I'm of this time and place, and I can't help but reflect that in my songwriting.
In addition, each song on the new song has a distinct flavor to it. Was it your intention to make such a diverse EP? Or did it just come out this way?
Since it's an EP, and only five songs, I did make a conscious effort to choose songs that were sonically different from one another while still maintaining a cohesive record. I have quite a few songs written and it was a challenge to choose only five!
As a follow up, when crafting songs, what comes first, music or lyrics? How does your songwriting process work? 
Typically, it's the melody, followed by lyrics. I tend to get ideas for songs in the wee hours of the morning, so  I always have a recording device nearby to quickly capture any ideas as they come. I'd say about two thirds of the song kind of writes itself. When it gets closer to recording time, I'll actually sit down and start arranging the songs, maybe add a bridge or a chorus, depending on what the song needs.
Do you have a preference between recording or playing live? Is one more important to you? Or do you enjoy both equally?  
It's hard to even compare the two since they're very different things. I enjoy both experiences. Recording is a lot like work! It's usually a pretty intense couple of weeks in the studio and it can be stressful a times. If you're working with likeminded people, it's exciting. Someone might think of a cool riff or musical idea that I would never have even thought of, and it makes the song that much better.  That said, there's nothing quite like playing live. It's a cathartic release. It's a chance to take all of those songs you labored over in the studio and give them life.
What are the differences and similarities between playing the upright bass and the electric bass? Is there one you prefer? Or does it just depend on the band or song?
I started on upright, and just recently picked up the electric. I love both, and I kind of miss playing the upright in this new project. Playing the electric bass live has allowed me a little more freedom to move around on stage and perform a bit more, and that's what I really like about it. In the studio, it really just depends on the song and what works best.
What is next for you? Will there be a follow-up recording, possibly a full length? More touring?
Well, I just want to get out there as much as possible and play these new tunes. I'm already writing and thinking about the next record, and I hope to have a full-length record out by this time next year!
Find Wilkes on Facebook and the web, and come out to Cafe Nine of July 20th to see Wilkes perform, along with Lindsay Cohen.  Lone Wolf is available for purchase here.
And for more from Alternative Control, find us on Facebook or follow on Twitter/Instagram at @AltCtrlCT!