'Tis the season of the fest.  With so many choices, where should you go?  Here are a few suggestions: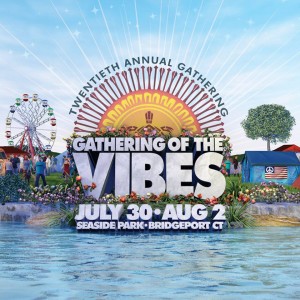 Gathering of the Vibes, 7/30-8/2 at Seaside Park in Bridgeport, CT — "Wait Jessie, isn't this a metal blog?  I don't wanna listen to this hippie stuff!"  Yeah, but do you want to listen to good music?  The festival, which began as a tribute to the Grateful Dead, is in its 20th year (and its 11th at Seaside Park).  The lineup's highlights for me are Weezer, the Tedeschi Trucks Band, Sharon Jones and the Dap Kings, Gaslight Anthem, and Warren Haynes.  The "all-stars" set he's doing Saturday night is sure to be a once-in-a-lifetime performance.  I know all the metalheads are like, "F*** Vibes, mannnnnn!"  But get over it, bros.  The hippie festival never did anything to you, and when you can play like Warren Haynes, I'll care about your opinion.
But anyhow… For the complete Vibes lineup and schedule, visit their site.  FYI, Sunday (8/2/15, when Weezer is playing!) is Family Day — kids 15 and under are free when accompanied by a parent. Connecticut residents also get $10 off the Sunday advance ticket price.  Order online here:http://govib.es/tix2015 and use Discount Code CTSUN15 at checkout.  Stay tuned for more AltCtrl coverage of the festival, including the annual massive Vibes food drive held by the Terrapin Foundation!

Summer Slaughter, 8/8 at the Palladium in Worcester, MA and 8/12 at Webster Hall in NYC — Okay, maybe this is more of a "tour."  But to paraphrase TJ from Lightsbane, Obscura and Jeff Loomis on guitar with Arch Enemy is enough of a show in itself.  This is not metal that's gotten "gray, bald, and fat," as Mayhem Fest cofounder Kevin Lyman said in a recent interview about his own festival.  I think part of that is due to the fact that the Summer Slaughter bands are more extreme and technically oriented than some better-known bands you'd see on other lineups.  (Like Hell Yeah?  OMG, they stink on ice.  Sorry, sorry…)  The scope might be smaller or more of a niche market, but the music is better.  As always, check the site for ticket info and additional dates.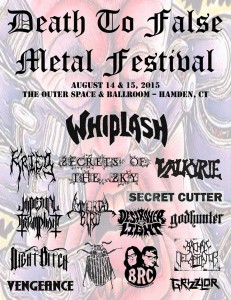 Death to False Metal Festival, 8/14-8/15 at the Outer Space in Hamden, CT — Another example of metal that's not bald and gray in spirit.  Organized by Chip McCabe of Connecticut Music Awards fame/infamy, Death to False Metal puts some of Connecticut's most innovative metal acts together with bands from around the country.  Old-school thrashers Whiplash will headline on Friday and black metal stalwarts Krieg will be featured Saturday; some other notables for me are Valkyrie, Immortal Bird, and Connecticut bands Nightbitch and Bedroom Rehab Corporation.
At $15 for a one-day pass or $25 for both, at a venue as chill as The Outer Space, you really can't go wrong.  AltCtrl will be covering this one as well, so look out for some interviews and review features in the coming month.
Honorable Mentions From The Scene
What festivals are you hitting up this summer??
For more from Alternative Control, find us on Facebook or follow on Twitter/Instagram at @AltCtrlCT!