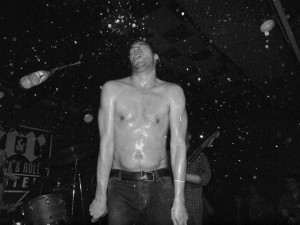 Philadelphia's Pissed Jeans play loud, ugly and weird music. Guitarist Brad Fry spits out heavily distorted and fuzz-laden riffs over the rhythm section of bassist Randy Huth and drummer Sean McGuinness, while lead singer Matt Korvette howls, yowls and rants lyrics about the inanities of modern life over the racket. They can be fast, slow, and every tempo in between. They bring it both on record and in the live arena.
Though they have been a band for about ten years, recording for Sub Pop, most of the members are family men with full time jobs that keep them busy outside of the band. But it isn't important what they do outside the band, it's what they do when they get together. It's okay to work for a corporation as long as you don't make music where you sound like you work for a corporation. Catch my drift. Their music is completely unhinged and exciting.
It also fits into a current trend happening in underground rock right now, where bands are discovering the joys of loud, noisy, angry and weird music. Though the band predates the existence of this noise rock renaissance, they happily fit into what is currently going down.
Pissed Jeans makes a rare live appearance on May 3 as part of the Fauxchella Indie Music Fest which takes place at The Space venues in Hamden. We thought this would be a perfect time to send some questions over to Korvette and get his thoughts about how they balance time between the band and "real" life, their place in the current noise rock revival and an upcoming project a few them have coming up with a well-known indie wrestler, among other subjects.
His answers are below. Enjoy.
How do you balance the demands of the band with your work and family life? How does touring work for the band?
We tour roughly 15 days out of the year, so it's pretty doable. Pissed Jeans is fairly low maintenance for all of us – it's not the focus of our lives, which is probably why it's still so great and fun for all of us. It's easy to stay really passionate about a project over many years when you only get to indulge in it every couple weeks.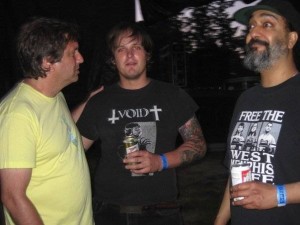 What function does the band serve for you? Has that changed over time? Why or why not? 
I've been in bands since I was 13, so it's just a part of who I am at this point, being a rock n' roller. It was never more than a really fun hobby, and I'd say it still is. Maybe it's more of an outlet now than it was ten years ago, since we all have taken on more adult responsibility in that time.
Your last album "King Of Jeans" featured a diverse array of songs, of varying lengths and pace, while the new one "Honeys" is more streamlined and direct. Was that your intention or was that just the way the record turned out? 
Just the way it turned out, really. And I personally don't think it's more streamlined than King of Jeans, but that's fine with me that you do! We just try to put together the best bunch of songs we've got, and once we have enough (and with a little studio luck), we've got a new album. I kind of think that any of our songs could have been on any of our albums, and it'd still fit.
You also used Alex Newport as a producer. He also produced "King Of Jeans".  What made you decide to work with him again? Does he bring the best out of the band? And deliver a nice, delightfully filthy sound?
We just really loved working with him, professionally and personally. He definitely pushes us, which we need (and weren't used to), and we seem to share a similar sense of humor. I love how our records sound, and I'd love to work with him again. I hope he's reading this.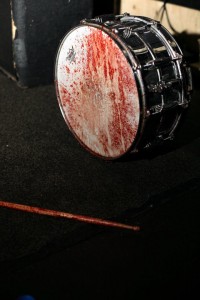 Is there a certain autobiographical slant to the lyrics? I can see how "Cafeteria Food" would be inspired by office politics. Why or why not? 
Indeed there is! Most of my lyrics are drawn from personal experience, not fantasy or colorful poetry. I'd rather sing about things that I spend my time thinking about, and it can often be cathartic, or at least help me get a handle on things.
Over the past few years, there seems to have been a lot of bands playing loud, noisy and slightly grungy rock. Do you think there is resurgence in this type of music? 
I would think you are right, there seems to be! Which is fine with me.
Would you consider the band part of this wave, if you think there is a wave? What is the appeal?
I would say that we have pre-dated this wave, since we are entering our tenth year as a band, but if people wanna lump us here, that's fine. I am just pleased to still be considered by anyone for anything at all. It's nice to have an audience.
How did a few you get involved with playing with indie wrestler Ultramantis Black in his punk band? What do you get out of playing with him? 
We have been personal friends for a while now, and he was looking to start a hardcore band to help express his political views and frustrations. It's completely his creative project, and it's just fun to play hardcore music with people you like and respect. Definitely a different vibe than Pissed Jeans, that's for sure.
What is next for Pissed Jeans? I know there is a Record Store Day release coming out, but can we expect new music anytime soon? More live dates?
Yes, there's a Record Store Day 12″ coming out, but besides that it's more of the same from us – some light touring, traveling around to play different shows, and working on new material, hopefully recording a new album this time next year, depending how things go.