Earlier this week, bassist Paul Spak was kind enough to answer some questions about his musical endeavors and the Summer Rock and Metal Fest he is hosting at Waterbury's City Limits on 6/27.  Bringing in midwestern metal outfit On My Six and also featuring a diverse roster of locals, Spak's organizing efforts will surely result in a show to remember.  Here's what he has to say about it…
Who is On My Six and how did you get hooked up with them?
On My Six is a metal band from Illinois.  Walter from Insano Vision referred them to me because they were looking to book an east coast tour and they needed to book a show in Connecticut — so I invited them to join this lineup. Rick from On My Six made the flyer for the show along with his friend Max Payne.
Exactly how many bands are you in??? And can you tell me a little bit about each one?  Is there one you consider your "main" band?
Priapism — hardcore/death metal/tech-death
60 Grit — death metal/black metal
Mortifica — tech-death/death metal/black metal
Recently, I've also begun working on a side project with drummer Kevin Talley (Suffocation, ex-Dying Fetus and Six Feet Under).  I don't have a main band, I give equal time to all.
What kind of gear do you use?  (I know you'll have an interesting answer for this one!)  Same instrument for all the bands, or do you switch it up?
I use a Peavey 700 bass head with an Ampeg 1×15 cab for practice/recording, and a 2×15 cab for shows.  I have two custom 7-string basses, both of which I use now.  My other basses I use as back-ups.
Forgive my ignorance, but have you been booking shows for awhile or is this something you're just getting into?
I have been booking shows for awhile — been putting together a summer show every year called Big Summer Jam.  It was only classic rock and rock, but once I got into the metal scene I have been opening up  to metal bands now too.  This year going to be the best one yet!
The latest Facebook debate is whether or not "all day fests" are a good idea.  Obviously you're booking one.  Why book 10 bands instead of 4?
Ever since I went to my first Ozzfest, I have been into festival-type shows. For some reason this year has been the year of the fest I guess!  I like booking  festival-type shows in the summer because it gets a lot of people out.  Also having a show with four bands is great too but it won't bring as much of a crowd unless it's the BIG 4 lol.  These days music has changed; it's not like it was back in the day with one band selling out a stadium, but still music is music.
Is there a band or bands in particular that you're really looking forward to seeing on 6/27?
Yes, On My Six who is coming all the way from Illinois and Crisis A.D. who is coming down from Maine. I haven't seen them play before but I am looking forward to see them perform.  It's also Lyra's second-to-last performance for good, which sucks!!
Well, sometimes different things happen…  What are some of the challenges you've found organizing such a large show?
One problem you run into is getting the bands to play in the first place.  There were a lot of bands I really wanted to get, but couldn't do because they had members working or on vacation, or they had another show booked.  Also, set times and bands dropping last minute makes things stressful because you have show booked months ahead and its all planned out; when a band drops off last minute, you need to rework set times and it can get messy.
Speaking of another philosophical debate that's been circulating "the scene," will you be releasing set times before the day of the show??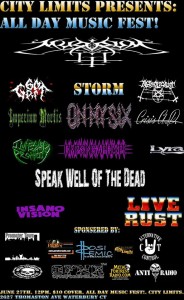 Set times are as follows:
Live Rust 2:25-3:05
Insano Vision 3:15-3:55
Speak Well Of The Dead 4:05-4:45
Lyra 4:55-5:35
Composing the Apocalypse 5:45-6:20
Infested Prophecy 6:30-7:10
Crisis A.D. 7:20-8:00
On My Six 8:10-8:50
Imperium Mortis 9:00-9:40
Alcoholicaust 9:50-10:30
Murrum 10:40-11:20
60 Grit 11:30-12:10
Storm 12:20-1:00
They are also posted in the event.
 What else is in store for your bands and booking endeavors in the next few months?
All my bands are recording — I will be in and out of the studio possibly until next year or so!  Lol just an estimate…  Also, 60 Grit has a few shows coming up:
6/27 — Rock and Metalfest 2015 at City Limits Waterbury

7/18 —

Hartford Deathfest 2015 ft. Internal Bleeding at the Webster Underground in Hartford (advance tix available for $13)
And that's a wrap…  If we didn't touch on all your burning questions, you'll just have to go to City Limits on Saturday and ask Paul yourself!
City Limits is located at 2627 Waterbury Road in Thomaston, CT, on the Waterbury/Thomaston line.