"Rain or shine" is one of my favorite descriptors when it comes to all day events, especially when metal and beer are involved. This past Saturday, June 27th at City Limits Café & Bar in Thomaston, I attended the Summer Rock and Metal Fest hosted by Paul Spak, bassist of 60 Grit, Priapism, and Mortifica. With bands scheduled to play from about 2:30 until 1:00 in the morning, there was no shortage of entertainment.
The range of bands in attendance that day joined from near and far. Coming out from Rockford, IL the melodic metal band On My Six made their way to CT as part of their first tour.
Speak Well of the Dead, a Metal/Hardcore band as well as Infested Prophecy (Blackened/Death Metal) belonging to MA shared their metalhead enthusiasm alongside local New England bands alike.
The Summer Rock and Metal Fest was also a stop in Crisis A.D.'s Road to Yardstock tour. The Hardcore band hails from Sacro, ME having begun their tour in NY.
The first band on stage upon my arrival was Hamden's own Insano Vision, providing a high energy performance with their Stoner Metal tunes.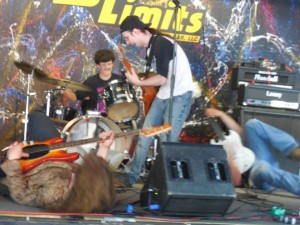 Also counted in the day's lineup was local CT band Lyra with their Symphonic/Melodic metal tones gracing us with their presence for their second-to-last show.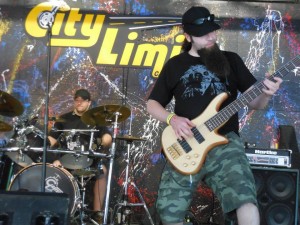 With a commanding, energetic presence Composing the Apocalypse took the stage after Lyra.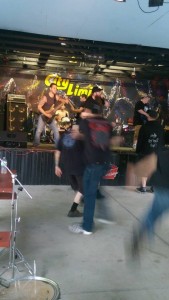 After the sun went down and more of a crowd filled the venue Melodic Death Metal sounds blared as Imperium Mortis took the stage. Scheduled thereafter was Alcoholicaust, followed by Murrum, a Black Metal band from MA. Playing near the end of the evening was 60 Grit, and the show finally ended with STORM.
The weather at the start of the evening was favorable, but even when the rain came down the show continued. City Limits has an outside pavilion area which includes a stage, bar and tables with benches. Even though I was not able to see all the bands that day, I enjoyed every aspect of my attendance. The venue was ideal, the crowd enthusiastic, and to be honest it never ceases to amaze me how much actual talent is out there.
The following is a partial list of upcoming shows for the local yokels.  If you have anything to add, list it in the comments!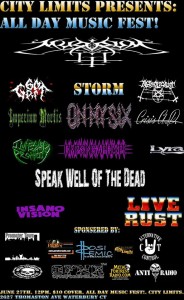 60 Grit (Bolton, CT)
7/18/15 – Webster; Hartford, CT
Alcoholicaust (Bristol, CT)
8/16/15 – Cherry Street Station; Wallingford, CT
Imperium Mortis (Torrington, CT)
7/18/15 – Cherry Street Station; Wallingford, CT
7/3/15 – Cherry Street Station; Wallingford, CT
7/30/15 – Matchless; Brooklyn, NY
7/31/15 – Ralph's Diner; Worcester, MA
7/18/15 – Sergio's Place; Wheaton, MD
Speak Well of the Dead (Springfield, MA)
7/12/15 – Sammy's Patio; Revere, MA
7/17/15 – Ralph's Diner; Worcester, MA
For more photos from the show, visit Jade's album.
And for more from Alternative Control, find us on Facebook or follow on Twitter/Instagram at @AltCtrlCT!