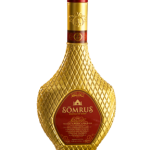 Earlier this week, Alternative Control was invited to Thali in New Haven to try SomruS, a recently launched Indian liqueur.  SomruS is truly an international product — dreamed up by a Chicago-based company, made with Caribbean rum, and bottled in Wisconsin, SomruS is the first cream liqueur to represent the flavors of India.
And represent it did, pairing perfectly with Thali's spicy dishes.  Here's what we tried:
First Course: Cauliflower in Spicy Cilantro Garlic Sauce and Samosa served with SomruS on the rocks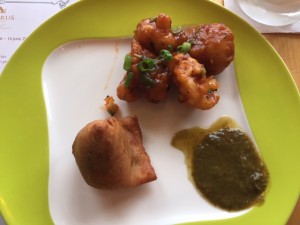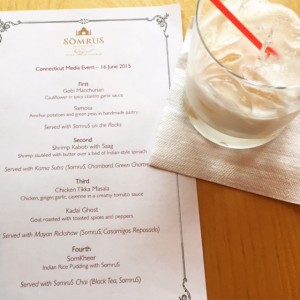 SomruS on ice tasted, "exactly like I hoped it would," said my fellow blogger Julie, "An adult chai."  Everyone at the table tried to guess the spices it's made with.  Was it vanilla?  Almonds?  Anise?  All our guesses except almonds were wrong; turns out that SomruS is flavored with saffron, cardamom, almonds, pistachios, and rose.  As a cream liqueur, of course it's pretty sweet, but not as overwhelmingly so as something like Bailey's.
Second Course: Shrimp Kabob with Saag served with Kama Sutra (SomruS, Chambord, and Green Chartreuse)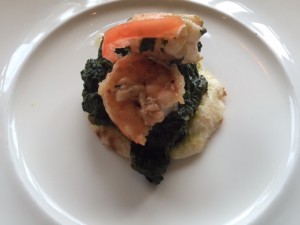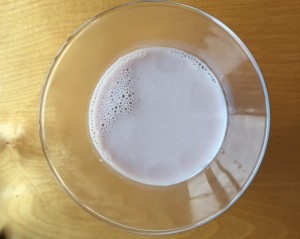 The Kama Sutra, despite having the best name, was not my favorite drink of the night.  The addition of Chambord and Green Chartreuse made for a sweet and fruity beverage with a strange color.  As someone who usually drinks beer, it just wasn't my style.  However, it did pair well with the garlicky shrimp kabob — and while it won't be my drink of choice, I had no problem emptying the glass.
Kama Sutra Recipe
2oz Somrus
1oz Chambord
¾ oz Green Chartreuse
Shake vigorously with ice. Serve in cocktail glass.
Third Course: Chicken Tikka Masala and Kadai Ghost served with Mayan Rickshaw (SomruS and Casamigos Reposado)
This course was amazing.  Wondering what Kadai Ghost is?  It's goat!  I'd never had goat before, but wasn't surprised to enjoy it.  It was served in a spicy sauce with peppers and had a stew-meat texture.  If you ever get the chance, give it a try.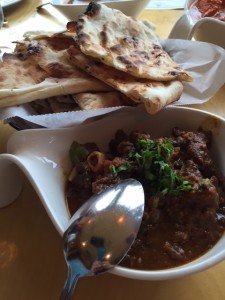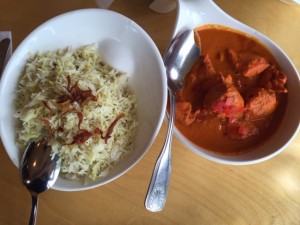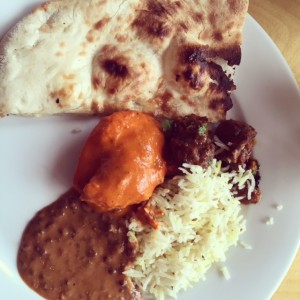 The Mayan Rickshaw was also pleasantly unexpected.  Even with just one part tequila to three parts SomruS, it still had a nice kick.  The combination of cream liqueur and hard liquor reminded me of another one of my favorite combinations: Bailey's and Jameson on the rocks.  Sweet, but gets you in good spirits!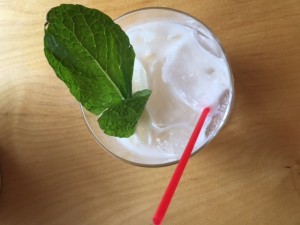 Mayan Rickshaw Recipe
2oz SomruS
2/3 oz Casamigos Reposado
Served over ice, garnished with mint leaves.
Fourth Course: Indian Rice Pudding with SomruS Chai (black tea and SomruS)
Julie's comment was prophetic! The SomruS Chai was just right.  It's as if SomruS was made to go with tea.  If you're making this at home, brew the tea as strong as possible.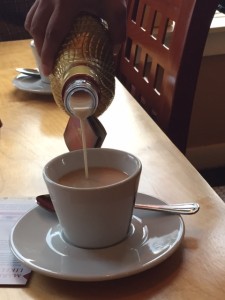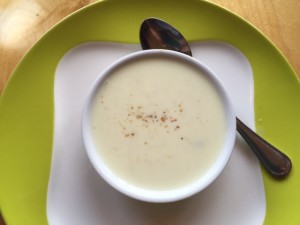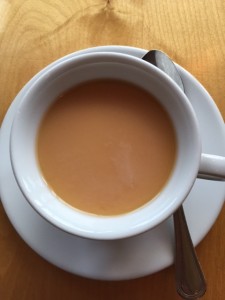 SomChai Recipe
1oz SomruS
3oz Chai Tea
2 dashes rose water, optional
Overall, I'd definitely recommend SomruS (and Thali!) to Alternative Control readers.  SomruS is a unique addition to any well-stocked liquor cabinet — and I suggest picking up a box of chai and some good silver tequila to go along with it!
SomruS is 13.5% ABV and a 750 ml bottle retails for $27.99-$29.99.  It's available at the following Fairfield County locations:
Bridgeport
Absorb Discount
Julianne's Wines and Spirits
Main Wine & Liquor Shop
Pit Stop Package
Price Break Liquors
Right Price Liquor
State Street Spirits
Danbury
Gulliver's Wine & Liquors
Northridge Wine & Liquors
Plum Warehouse Wines and Liquors
Warehouse Wine & Liquors
Norwalk
Stamford
Westport
Dan's Liquor Store
Castle Wine and Spirits
Thali is located at 4 Orange Street in New Haven.   (203) 777-1177