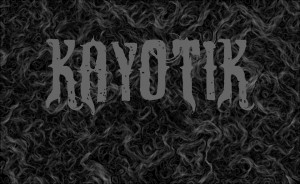 Brutality is a concept oft-discussed in death metal circles.  A band releases a new slab of tunes and writers and fans alike immediately hold it up to some hypothetical scale to see if it measures up.  Local death/grind merchants Kayotik not only embrace this challenge but laid down the gauntlet in the very name of their EP: Born Through Brutality.
First and foremost, Kayotik are brutal.  Mixing a base of death metal with touches of grind, the four-piece slams through song after song of ear-pummeling, neck-snapping aggression.  Song arrangements have more in common with Back In Black than Nihility [see: Decapitation and thank me later] and tend to stick to two or three riffs, mining each part for every last drop of usefulness.  Dave and Darrin Yardley, CT's answer to the Brothers Abbott, are the backbone of Kayotik.  Dave's ability to take a riff and add subtle changes – moving it to a new octave or adding a pinch harmonic – make these songs very listenable and add diversity.  Drummer Darrin drives the music along with a staggering array of techniques that mesh well with his brother's guitar parts.  As a fan of Darrin's other project, Continuum, I can say his approach here is different and gives Kayotik a very authentic feel.  Chris Praml delivers his hymns of hate and violence in a style well-suited to the music.  His voice is abrasive and raw, as it should be, and it doesn't matter if you understand exactly what he says because you just *know* it isn't concerning rainbows, ponies, or the benefits of yoga.  The production here isn't stellar but instead of it taking away from the overall feel it adds to it.  Kayotik is not a band that would benefit from a crystal-clear mix job; these dudes deal in dirty razors not surgical scalpels.
Overall, Born Through Brutality is a fun experience.  There are days when your brain needs to be pushed and prodded and there are days when it needs to work on a primal level.  Kayotik are for those times: put it in, push play, and see red.  The recent addition of bassist Tom Calver has the band writing new material in hopes of releasing a full-length soon.  Fans of Dying Fetus and root canals should keep an eye out!
Upcoming Shows
April 5th at the Winchester in New Haven
April 13th at the Amity Teen Center in Woodbridge w/ Lightsbane and more
May 31st at Cherry Street Station in Wallingford w/ Continuum, Eyes of the Dead, Lyra, Pink Missile, and Burn the Bodies