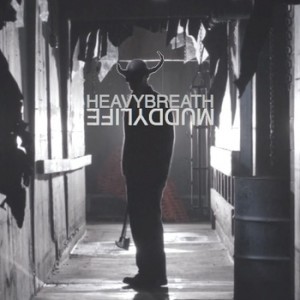 If you're trying to get a girl to sleep with you for the first time, Heavy Breath's Muddy Life is not the album to put on.  But if you've got an Al Qaeda operative tied up in your basement and you need to find out where the bomb is RIGHT NOW – or if the CIA is tied up in your basement and you need to know if Obama's next drone strike is coming to your neighborhood — turn that shit on full blast.
Muddy Life is not subtle or agreeable.  It's abrasive.  It's fucking loud.  I'd say it's "raw," but the recording quality is very clear.  Speaking of explosives, the three-song EP begins with "Chekov's Bomb," a foreboding scream into the universe.  Vocalist Kilian Appleby mocks our complacent culture, singing, "I've got a car / I've got a hundred grand in the bank  / I've got a submissive girlfriend  / Who does whatever I say / I can't imagine anything / Ever going wrong / It never has before."
Sorry bro, it's about to.  A bomb that appears in the first act must go off by the third….
Heavy Breath has been setting off their musical dynamite since 2010, and longtime fans might notice that Muddy Life is more aggressive than some of their previous work.  In a phone interview this afternoon, bassist Mike Tobey attributed this change partially to the addition of lead guitarist Corey Fruin.  "With Corey, this whole new chemistry happened," he said.  "His writing is perfectly matched with what we wanted to do."  Rounded out by rhythm guitarist Grady Hearn and drummer Chris Mala, the New Haven-based band has had, according to Tobey, "a rotating lineup over the past couple years" – with the current configuration successfully interspersing the experimental-ness of experimental hardcore with a groove that's easy to get into.
Which brings us back to Muddy Life.  The second track, "Be the Prometheus," again appeals to listeners to free themselves from their complacency: "The primordial ooze is calling / We'll bathe and fuck and evolve." My favorite part of the whole album was this song's Motorhead-esque bridge.
"I'm a Motherfucking Weak Man" closes the EP.  This one builds and builds with entrancing drums, only to leave the listener abandoned at the end – like the protagonist of the song, who apparently dies alone.  "Look at how it's all orange and barren outside / Looting giving way to hoarding and the lost civility / I've got no peace of mind / It's just the roaches and me" – this must be after the bomb has gone off.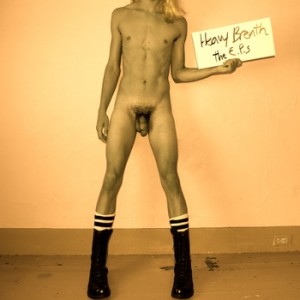 If you want to be part of Heavy Breath's hardcore apocalypse, get your ass down to New Haven tonight.  They're playing at the People's Art Collective (212 College Street) with Creem and No.  They've also got a show coming up at the Prospect VFW Hall on April 4th – and a house show in Rhode Island on 4/20, but you might have to know someone to get in there.
And are you wondering about the dick picture on Heavy Breath's second EP, Ugly Americans?  Alternative Control knows the whole story…. But we're not telling!
Find Heavy Breath on Facebook, Twitter, Bandcamp, and Tumblr — and for God's sake, go to a fucking show!