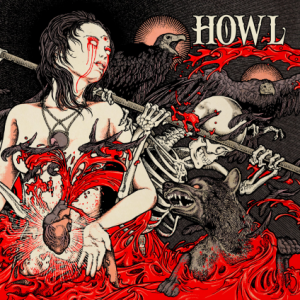 Bloodlines, Howl's second full-length album, is due to be released by Relapse Records April 30th.  Fans of the Rhode Island doom metal band will find this work to be just as powerful as Full of Hell, but with some marked differences.
The first distinction is that Bloodlines is a lot less sludgy.  If Full of Hell was a tsunami, this album is a sniper attack.  The riffs are shorter and faster – a gallop where Full of Hell took its time.  Listeners will also notice that the vocals stand out more than in the previous album, where the words blended into the riffs.  In Bloodlines, the lyrics are clear.
But Howl's sound isn't the only thing that's changed; the band also has three new members.  Guitarist Andrea Black and bassist Rob Icaza have went their own ways — Black in 2011 and Icaza after the new album was recorded.  Currently, guitarists Josh Durocher-Jones and Jonathan Hall and bassist Jesse Riley join founding members Vincent Hausman (vocals/guitar) and Tim St. Amour (drums).  The band told Metal Sucks in early March, "After we recorded Bloodlines, we realized that to do the record justice live we needed another guitar player, and for Vincent to focus fully on vocals. Our buddy Jonathan Hall stepped up to shred. In addition, Rob, our bass player, decided to pursue other things besides music, hence young Jesse Riley on bass. We feel like this is the best lineup yet."
But enough with the history lessons.  Bloodlines' first two tracks, "Attrition" and "Midnight Eyes" are immediate rhythmic onslaughts that show Howl's changing style.  Check out the lyric video for "Attrition," below:
Definitely different — but songs like "With a Blade," boasting a sludgy bridge, a great stoner-metal hook, and beautiful guitar harmonies towards the end, show that Howl hasn't abandoned the best aspects of their previous work.  (Watch them play it live in Brooklyn, courtesy of Metal Injection!)  "Of War" is another song to get lost in, but if I had to pick a favorite, it would be the hypnotic closing track, "Embrace Your Nerve." Despite my romantic attachment to Full of Hell, Bloodlines delivers.
Unfortunately, Howl's current tour has already brought them through our area.  Here's the remainder of their upcoming dates:
3/11/2013 Walter's – Houston, TX
3/13/2013 TBA – San Antonio, TX
3/14/2003 SXSW MetalSucks Showcase – Austin, TX w/ Goatwhore, Norma Jean, Royal Thunder, KEN Mode,  Gypsyhawk
3/17/2013 Parade Of Flesh Afterparty – Dallas, TX w/ Mutilation Rites, Ken Mode
3/18/2013 The Sound Pony – Tulsa, OK w/ Senior Fellows, The Way it Was
3/19/2013 The Riot Room – Kansas City, MO w/ Abbot, Keef Mountain
3/20/2013 Fubar – St. Louis, MO w/ Grand Inquisitor, Predatory Witch
3/21/2013 Frank's Power Plant – Milwaukee, WI w/ Gravedirt
3/22/2013 Ultra Lounge – Chicago, IL w/ Jar'd Loose
3/23/2013 The Bishop – Bloomington, IN w/ Torturess
3/24/2013 The Berkley Front – Detroit, MI w/ The Armed, Dead Church
3/25/2013 Kobo Live – Columbus, OH w/ Stormbrewer
3/26/2013 Now That's Class – Cleveland, OH w/ She Rides
3/27/2013 The Smiling Moose – Pittsburgh, PA
3/28/2013 The Sidebar – Baltimore, MD w/ Strong Intention
3/29/2013 The Tuscan Cafe – Warwick, NY w/ Strong Intention
3/30/2013 The Cambridge Elk's Club – Boston, MA w/ Strong Intention
3/31/2013 The Shaskeen – Manchester, NH w/ Strong Intention
4/01/2013 Nectars – Burlington, VT w/ Strong Intention
4/03/2013 Dusk – Providence, RI w/ Tinsel Teeth, Graveside Service
To pre-order Bloodlines, click here – and while you're at it, get yourself a t-shirt with that brutal album art! And cross your fingers that Howl tours again this summer… Alternative Control will keep you posted.
Photo courtesy of Relapse Records. Thanks to Howl, Relapse, and Earsplit PR for giving us an early listen!