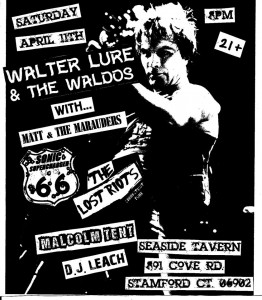 By Matt Mullarkey
It's not often us residents of lower Fairfield County Connecticut are graced with the presence and performance of a genuine living punk rock legend. Saturday April 11th, Walter Lure & The Waldos will be making an extremely rare Connecticut appearance at Seaside Tavern in Stamford.
For those not familiar, Walter Lure joined The Heartbreakers (later known as Johnny Thunders & The Heartbreakers) in 1975 on 2nd guitar. This lineup included notorious ex-New York Dolls guitar hero Johnny Thunders and drummer Jerry Nolan, along with ex-Television bass player and vocalist Richard Hell. After Hell left the band, bass player Billy Rath joined to solidify what would be The Heartbreakers classic line up.
The Heartbreakers went on to tour the world, including as part of the ill fated "Anarchy In The U.K." tour of England in 1976, along with the Sex Pistols, The Clash, and The Damned. (British town councils put a stop to all but a hand full of shows, terrified of this then new menace to society that was called "punk rock.")
The year 1977 saw the release of The Heartbreakers only studio release, L.A.M.F., (a.k.a. Like A Mother Fucker) a definitive desert island disc, which contained the classics "Born To Lose," "Chinese Rocks," and "One Track Mind" amongst others. They continued to tour and record sporadically until the untimely death of Johnny Thunders in 1991.  During that time, Walter also supplied guitar tracks on three Ramones albums: Subterranean Jungle, (1983), Too Tough To Die (1984), and Animal Boy (1986).
Now and for the past several decades, Walter has been playing occasionally with his New York City based band The Waldos.
Also on the bill for this rare CT appearance will be our own local legend, Malcolm Tent, opening the night with his cynically caustic acoustic punk set. Next up will be New Haven's own The Lost Riots, blasting through a boozed fueled set of abrasive-yet-melodic, 1977-esque punk anthems.  Up to bat next will be Sonic Super Charger 66, playing their usual Ramones-meets- Buddy Holly tuneful set. And finally before The Waldos will be the closest to the sound of the original Heartbreakers CT has to offer, Matt & The Marauders. Throughout the evening, D.J. Leach will be spinning the best punk, hardcore, and other cool stuff between bands.
This will be a night not to be missed, and one that will be talked about for a LONG time round these parts…  See ya there!