Few metal bands have aged as well as Enslaved has. Most groups run out of ideas eventually, or at the very least slow down their output. And after a couple of clunkers from a couple of my favorite metal bands, I was becoming worried that Enslaved was going to come out with a snoozer. How could they possibly keep up their string of winning documents on album number thirteen? With absolute command, I tell you. It's becoming almost inhuman just how consistent this band is. In Times is yet another awesome creation in a legendary catalog of music.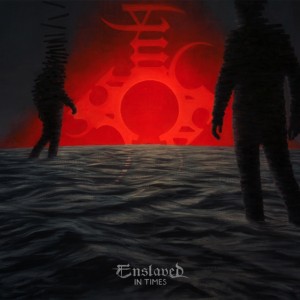 Despite the experimentation the band undergoes from album to album, they always manage to retain the core of their sound. The Viking and hedonistic heritage that forms the philosophical base of their music is intact and growing stronger. Although the black metal aspects of these songs are scaled back, their appearances are no less vicious. And there's no beauty found in the extremity of these black metal moments. Unlike black metal acts that attempt to construct their riffs in a shoegaze wash of ethereal sound, Enslaved in their extreme moments are ugly, bone-dry and jagged. This angular approach to their dark side has always kept them on an island in the progressive metal world. They never sacrificed the sheer violence and storminess of their sound as their music matured throughout the years. The opening riff in "Thurisaz Dreaming" is just nasty.
It's also obvious that Enslaved have become braver towards their vocal dynamics on In Times. The clean vocal sections are numerous and confident, standing strong against the raspy screams that have always been instrumental in promoting Enslaved's barbarism. The clean vocals are saner, deep with the wise tone akin to a Norweigen mystic filled with foreboding visions. Parts of "Building with Fire" are almost playful, with bouncing riffs underneath a saccharine vocal line.
The rare, quieter parts of these songs are kind of minimalistic. They float there like breaks in the heavy rain. But the music always remains cloudy. Gentle keyboard sounds and strumming electric/acoustics serve as interludes between more active measures.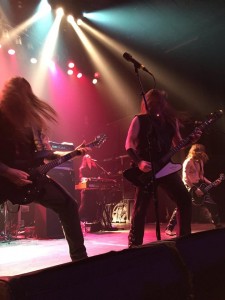 A large part of this album focuses on that middle ground between the calm and the storm. And that middle ground is tumultuous, symphonic, epic heavy metal that infuses a black metal intensity into progressive metal ambitions. Enslaved soars high and proud when the grand idea of a song really starts to kick into gear. Sections in "One Thousand Years of Rain" and the title track are just godly. And the brutality which exists behind every triumphant moment reminds the listener that deep down, Enslaved is still an extreme metal band. They're loud, powerful, passionate and practically militant when they bring the hammer down.
For me, the thing that solidified my love for this album was homogenous song lengths. It sounds silly, but an album of six tracks at roughly ten minutes each that add up to a little under an hour of playing time just feels like a perfect package. I'm not sure if they planned it that way from the start, but I always factor in the flow and length of an album when reviewing. Awkward song transitions, filler, and albums that just don't know when enough is enough can sort of kill a high rating. Not so here.
All in all, Enslaved has made yet another successful release. And I personally thank them for giving me hope that old bands can still have new tricks. And even though the tricks aren't strikingly different this time around, there's enough strength in the Enslaved sound that minor alterations work just fine.
8 out of 10