The underground metal community is a small world.  When I interviewed Willy Rivera of Spiral Grave earlier this summer, he talked at length about a documentary called he was involved in that spotlighted musicians' mental health; Rivera also mentioned that the filmmaker had made a previous documentary about the (at times, contentious) relationship between Christian heavy metal bands and the rest of the metal community.
When I set out to transcribe this interview, I looked up the trailer for Metal Health to see if Rivera was in it, so I could embed it in the article.  As I watched, something about the self-filmed discourse and nature of the questions seemed familiar.  Earlier this year, I had filmed responses to some questions about women in metal — in my basement, using my cell phone — and sent them to some guy named Bruce something.  I dug through my inbox, sent that guy Bruce an email, and lo and behold….  I was talking with Virginia-based indie filmmaker Bruce Moore of Brutally Delicious Productions, who produced 2017's award-winning documentary Metal Missionaries and the upcoming documentaries Metal Health and Women of Metal: Breaking the Stereotype One Riff At a Time.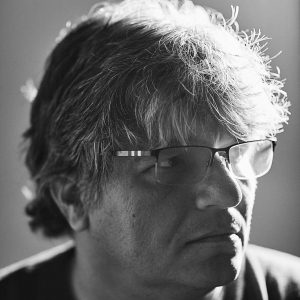 Bruce was kind enough to send me near-finished review copies of the upcoming movies.  One thing viewers will immediately notice is that the responses are presented as-is — there might be a name and a band name that flashes at the bottom of the screen, but the interviewees' music is for the most part unheard and their band's "pedigree" is left a mystery.  It's the musician's thoughts that take the stage and create the narrative.  Many of the interviewees are truly part of the underground; in Women of Metal, the only person I recognized other than myself was April Rose of Auditory Armory because I'd interviewed her previously and Kayla Dixon of doom stalwarts Witch Mountain (WHOA!).  
A valid question might be, "Why would anyone care about what these people other than Kayla Dixon have to say?"  But as someone who's spent almost a decade writing about bands that are mostly underground with very, uh, "niche" audiences, I see what Bruce is doing.  By putting these underground musicians from all over the world together, he is validating their art and giving them all the potential to expand their reach.  Projects like this bring our seemingly disparate community closer and closer together…. 
So close, in fact, that with the click of a send button the interviewEE becomes the interviewER.  They weren't all fluff questions either, but Bruce was game.  Read on to see what he has to say about his documentaries, the Brutally Delicious cooking show, and more.
How did you get into DIY filmmaking?
It kind of was a natural progression I think. I have a background in audio/video and was developing, producing, and editing short video segments for PureGrainAudio for a number of years. As a fan of documentaries, especially music related ones and anything by Sam Dunn, I decided to go ahead and give it a shot. The DIY portion is what it is. As someone with no extra cash to speak of and no Hollywood backing the only way I was going to get it done was by rolling up my sleeves and digging in and enlisting the help of anyone who was willing along the way. I guess the plus side is there is no one to tell me what to do or how to do it …so there is that.
You have a lot of different material on the Brutally Delicious Youtube page — from the documentary trailers to the Brutally Delicious cooking show, to the kid reviews of Metal Munchkins.  Is a particular series closer to your heart than the others?  Which one takes the most of your focus these days?
They are all near and dear to my heart, all my babies I guess you would say, so it would be difficult to pick just one. I will say that "Mobs of Metal," is especially fun because it really gets to the gist of what I am trying to do and that is showcase the fact that there is a strong, vibrant metal community and despite the cultural, religious, or ethnic backgrounds, the metal world is one great big family. You can literally show up at a metal festival anywhere in the world and there is a built in support network and well…family. I have been invited to stay at people's houses, offered meals, and been helped in various ways by people I have never met but who share the love of a good heavy riff.
How do you find the interviewees for your documentaries?
I have been in the music business for more than 30 years now in various capacities from audio engineer, to sound guy, to video production, writing and film and I have cultivated a network of contacts over those years. When I sit down to begin a project or a new season of Brutally Delicious I kind of write out my short-list of those I would like to involve and then tap into that network to make it happen. Of course a good amount is still done by taking the time to solicit and pitch publicists and bands.
What was the response to Metal Missionaries like from the media and the underground music community?
Believe it or not the response was quite good. Aside from receiving numerous awards in the independent film circuit received quite a bit of positive feedback from religious community as well as the non-religious community which I was pretty stoked about. Even the people that hold completely different beliefs like Ben Falgoust of Goatwhore or Vorph of Samael  were respectful in the way that disagreed, which I found quite cool.
I'm about an hour into the Metal Health doc and have noticed the only woman featured so far is a psychologist.  How did you end up with so few women in that film while simultaneous making a documentary about women in metal?
This was not intentional, it is pretty much just the way it worked out. I had a ton of footage from other bands and artists but I had to get it whittled down to 90 minutes or so. With time constraints like that I had to pick the stories that would best move along the topic and the theme, As I am sure you noticed a lot of what I do is driven by the interviews and so the only way to get the message across is to select the narratives that best tell the story.
Some women musicians view the spotlighting of "women in metal" by men to be suspect.  For instance in compilations, social media accounts, etc….  What are your thoughts on that?  As a man, how did you approach this project to avoid being patronizing or using women for the click factor?
I approached this project in a rather delicate way at first. You are right, some of the people I spoke with were quite suspect of my motivations and were hesitant to share their stories. But in the end my motivation for putting this film together truly was from the heart. Like I mentioned already as someone who has been in the business for so long AND as a man I have seen a lot of the negative things that women have had to deal with over the years. Keeping with my mission I started out with my short videos I always aim to capture a different side of the metal scene, whether it be a religious take as in Metal Missionaries, a positive story from Mobs of Metal, or a woman's perspective if the scene. My goal has always been to approach the Metal genre from a different light or different angle.
The interviews in both those documentaries are presented with minimal narration, background on the featured bands' music, etc — rather, focusing solely on the interviewees' responses.  Why did you choose to go that route from a filmmaking perspective?
This is simple — I really wanted the artist narratives to tell the tale and create the body of the work and have my narrative be the frame or glue binds it all together. This is not about me, this is about the artists and the topic at hand and I think by letting them speak directly the films are more honest and organic.
The Brutally Delicious cooking shows look like a lot of fun.  Can you talk about what goes into making one of those episodes?  How can bands get in touch with you if they want to participate?  Or is it more of an "don't call me, I'll call you" situation lol….
The Brutally Delicious episodes are a lot of fun to make, but quite a bit of work as well. Most of the time they are filmed at my place with a very minimal camera crew I gather from the local film school. From there I do all the editing and production. There are some episodes where bands have filmed themselves at their places because they are somewhere around the world and not able to make it to Richmond, VA. In this case I usually chat with them beforehand and give them the basic specs and they film themselves and send back the raw footage for me to edit. This is a great option for me because it keeps fresh content coming in. I am always looking for content for the cooking show and all an artist or band would need to do is reach out at [email protected] to start the conversation and get the ball rolling.
What do you view as the role of filmmaking in the underground music scene?
I think filmmaking is a way to bring attention to and support the underground music scene. I say that because I always strive to include independent artists and bands in my projects right alongside major artists. I feel that this brings some of these bands to the attention of an audience that might never have heard of them. The greater the exposure the greater the potential for them to be noticed. It ends up being a win/win situation as their fans are more likely to watch the film and spread the word.
Metal Health will be released on August 15th and Women of Metal comes out on September 13th.  Metal Missionaries is available for rental or purchase here.  Follow Brutally Delicious on Youtube, Facebook, and Twitter to stay up to date!
For more from Alternative Control, find us on Facebook, Twitter, Instagram, Soundcloud, and bandcamp.