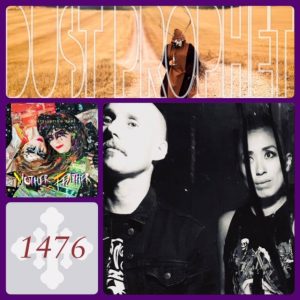 We're barely into November and it's already a great month for music!  As the days grow shorter, I'll decorate with sound to raise my spirits….
…and Mother Feather is the perfect band to combat the end of daylight savings time.  This Brooklyn outfit is by far the most colorful band on Metal Blade, and probably the least "metal"; they released their sophomore full length Constellation Baby on November 2nd, 2018.  Songs like "I.C.U." and "Snakebite" are reminiscent of the rockers on their self-titled debut, and there are also more pensive tracks like "Man I Wish You Were Here" and "I Blow a Kiss."
At first listen, I don't know if I love Constellation Baby as much as the first album, which lived in my car CD player for several months and got burned into my brain — but I trust Mother Feather and I'm willing to give the album more consideration.  Plus, leading ladies Ann Courtney and Elizabeth Carena true showmen (showwomen? showpeople?) who put on a theatric, passionate performance.  If you can get down to Brooklyn on Thursday December 6th, make sure to catch their album release show at Knitting Factory.
Speaking of the Knitting Factory, my partner-in-crime and I had a great time there this past Saturday at the second night of the inaugural Prophecy Fest USA.   Year of the Cobra blew the audience away with doom metal that was neck-breaking and heartbreaking at the same time.  Amy Tung Barrysmith's clear, haunting vocals were a perfect contrast to the fuzz put out by her Rickenbacker bass and giant rig; although YOTC is "just" a two-piece band, the songs never felt sparse.  I picked up a CD copy of their most recent release, Burn Your Dead, and the piano on the album was an unexpected and pleasant surprise.
We also got to catch some of 1476's set, a band we were completely unfamiliar with; we were intrigued by melancholy acoustic parts that quickly evolved into full-on post metal and even punk-inspired avalanches.  1476 is "proudly from New England," which I think is awesome — how many bands do you hear touting our region as a positive attribute?  To be more specific, they are actually from Salem, Massachusetts, and their album art evokes that haunted coastal village without being campy or pretentious.   This band is a musical light in the lighthouse tower on a bitter New England beach, guiding listeners past the jagged rocks of genre boundaries and closed thinking.  These guys will be on my Christmas-tree decorating soundtrack for sure, because my tree is freakin' brutal and windswept.
On the topic of New England bands that blend genres (and unrelated to my future Christmas tree), I recently came across the New Hampshire band Dust Prophet.  They released a single called "The Big Lie" last month — first release ever — and it shows a lot of promise.  The song has some stoner rock elements like dreamy female vocals and a psychedelic bridge, but the guitar is hiding some 80s thrash skeletons in the closet.  Overall, Dust Prophet is coming out of the gate with its best foot forward in terms of the music, artwork, and web presence.  Keep an eye out for them around New England in 2019!
What music brightens your late afternoon darkness?  Leave a comment!
For more from Alternative Control, find us on Facebook, Twitter, Instagram, Soundcloud, and bandcamp.