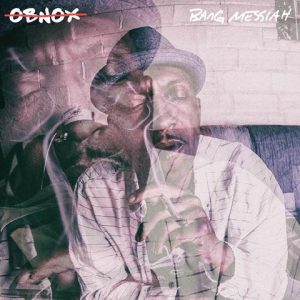 Since forming this project in 2014, Cleveland born and bred garage rock vet Lamont "Bim" Thomas (a.k.a. Obnox) has released about seven records of genre busting garage punk/funk/hip hop mayhem. What's even more impressive is the fact that he keeps to such a hectic release schedule and keep such a high level of quality. Each album is a ripper, just like this one. But that should come as no surprise to people who have following it since its outset.
For Bang Messiah he returns to the label where it all started, and enlists the services of famed recorder (don't call him a producer), Steve Albini.
Does this matter? In a way. Bang Messiah is Obnox's warmest and fullest sounding recording. Though Thomas sneaks in a little bit of cheeky humor by naming the first track "Steve Albini Thinks We Suck," it's basically just a sample from a song on the first Geto Boys album, with a little rap by Thomas thrown in for good measure. Plus, it's an Obnox recording — the songwriting is going to shine through no matter who records it, but having Albini on board definitely adds to it.
"Peek-A-Boo," which is the first proper track on the album, is a raucous funk rap number that mines a simple but funky groove. "Baby Godmother" leans more in a rap direction, but is equally enticing. "I Hate Everything" is a ripping garage punk tune, which displays a hefty dose of groove, along with Thomas' smooth vocals. "Enter The Hater" is more furious take on Obnox's garage punk side, while "Off Ya Ass" takes that track a little further by putting the metal to the pedal. "Find My Way" rocks mightily. "40th Black Street" merges all sides of Obnox's sonic personality. It's funky, has some killer raps, and rocks out, ended in an extended guitar and piano jam. "Rally On The Block" is garage punk damaged hip hop. "Fluss" ends the album where it began, with that same Geto Boys sample.
Bang Messiah is another triumph for Thomas/Obnox. This should really come as no surprise to people who have been following this project. Hopefully more people will discover this weird, wonderful band, because it demands to be heard by a wider audience. It flat out rules. So, this is your chance to hip yourself to some great new music. Don't blow the opportunity.
Bang Messiah was released by Smog Veil Records on October 5th, 2018.  Order here and listen below:
For more from Alternative Control, find us on Facebook, Twitter, Instagram, Soundcloud, and bandcamp.