It was a strong scene for a rainy Wednesday.  Eyehategod and The Obsessed were kicking off a thirteen-date (mostly) eastern U.S. tour at the Space Ballroom in Hamden, Connecticut, and all the weirdos came out to see them off.  Including this author, fresh out of the weekly teacher meeting with barely enough time to slap on my battle vest…
New Haven locals Bone Church kicked things off at seven-thirty sharp with an energetic set of psychedelic rock n roll.  They added color and spark to a lineup with a lot of concrete, and the many Bone Church shirts in the crowd were a testament to their magnetism.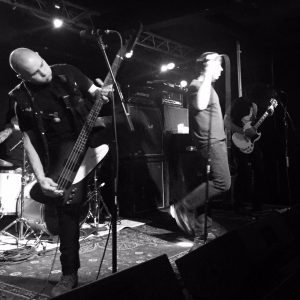 Bone Church was followed by New Hampshire/Maine sludge band Come to Grief, who were a perfect fit for a bill with Eyehategod — and a perfect example of that concrete, pummeling through their set with nihilistic determination.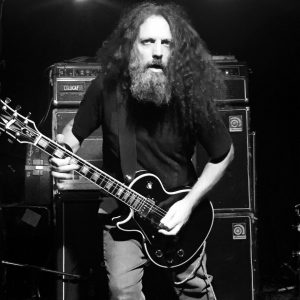 Next up were doom legends The Obsessed, a trio fronted by Scott "Wino" Wenrich.  These guys put a little color back in the lineup, with classic chugging doom in the spirit of Sabbath and the volume turned up to Tooth-Rattling.  It was my first time listening to this band, but it won't be the last.  (And my friend Mark from Gorge is giving me a music history lesson in Saint Vitus, Wino's other super-influential band I've never listened to… I have a lot of homework to do!)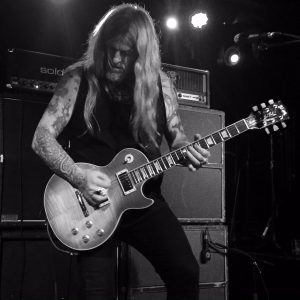 Then came to the freight train of sludge that everyone was waiting for: Eyehategod.  Frontman Mike IX Williams has an appeal that's difficult to explain.  He appears at once vulnerable and dangerous; you want to take him home and give him chicken soup, but he might blow his nose on you on purpose.  I guess a dude who got back on stage four months after a liver transplant ain't foolin' around…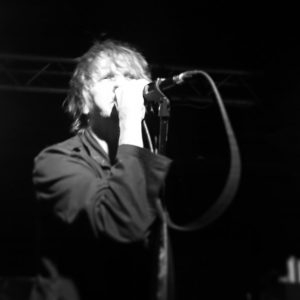 The boys from NOLA delivered the goods with a mix of violence and humor, seeming to make do without guitarist Brian Patton as they have for some time.  They'd played this venue in 2014, less than a year after the death of original drummer Joey Lacaze; Aaron Hill was their "new drummer" then, but not so new anymore.  Bassist Gary Mader is their fourth and longest running — and of course Williams and guitarist Jimmy Bower have been slinging sludge together since 1989.  This is a band that's too angry to die, a band that "takes a life of its own."
I made it to "Sister-You-Know-What" before tomorrow's Real World called me home.  The windows and outer walls of the Ballroom shook behind me as I walked through the parking lot…  At least I got to be a weirdo for a couple hours.
For more from Alternative Control, find us on Facebook, Twitter, Instagram, Soundcloud, and bandcamp.