As a new inductee to the cult of EHG, there was no way I could NOT see them last night at the Outer Space/Ballroom. (Actually there were a lot of ways I could not see them – basement floods, lack of cash, grandmother's home health aides calling out –but thankfully those situations were rectified in time for the show.)
Hardcore Correspondent Tom was happy to join me; we missed Sea of Bones, despite our strong intentions.  Speaking of which…
…Strong Intention's high-energy hardcore had us tapping along.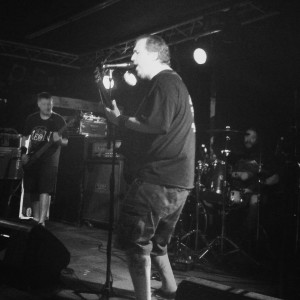 Vektor was up next.  Singer has a hiiiiiiigh voice.  Like, piercingly high.  But it is "prog-thrash from space," so….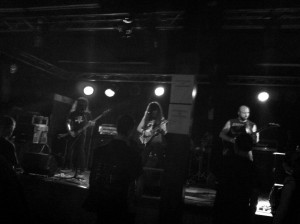 Bro on the right was filling in for Vektor's regular guitarist.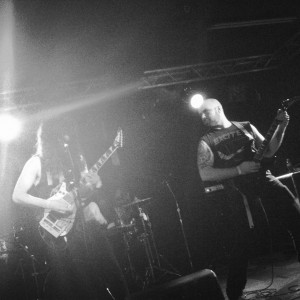 Then party thrash-punks Iron Reagan took the stage.  I had to take a break and eat a personal pizza so I wouldn't die driving home; Mike IX Williams was sitting on the opposite couch and I almost offered him a slice, but he looked like he didn't want to be bothered.  So I ate the whole fucking thing.
I caught Iron Reagan's last couple tunes, including the short and hilarious "Your Kid's an Asshole."  Also, you can't tell from this picture, but their bassist is incredibly good-looking.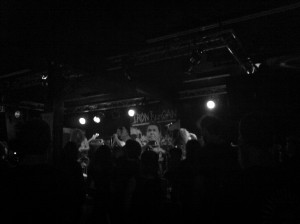 As Eyehategod set up, a metal bro with an awesome vest offered me a spot right next to the center-stage monitor.  (Guess my "Live Pussy" t-shirt paid off, man I wish I had a hot selfie of that one…)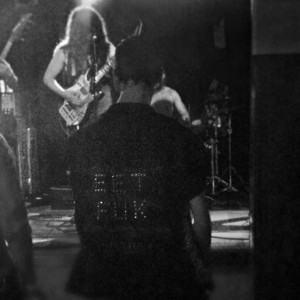 I headbanged through most of EHG's set, 'til I could headbang no more.  Then I gave my spot to Metal Bro Ian – gotta pay it forward, braaaaaaaah.
The band put on an awesome performance, but Williams seemed disappointed with the polite Connecticut-on-a-Monday crowd — although when Vest Bro offered him the "no moshing" sign and a lighter, he declined to burn it on stage.  Don't light shit on fire where you eat, I guess.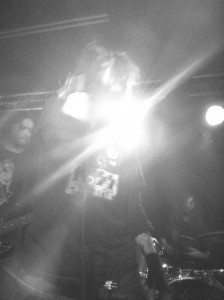 Jimmy Bower is in those lights somewhere….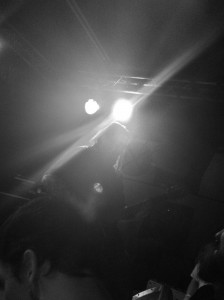 This is LA, not L.A.  Where we drink Dubra on stage.  (Please tell me that bottle was full of water…)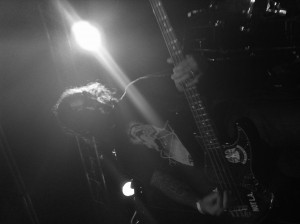 Their new drummer Aaron Hill was full of life – wish I could have gotten some better pictures of him.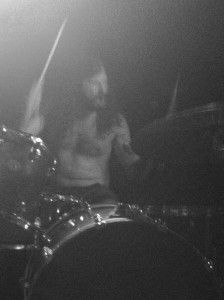 Guitarist Brian Patton had a Pollos Hermanos shirt on – yessssssss.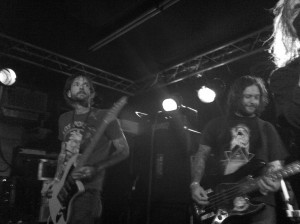 Ben Ratliff of the New York Times said of Eyehategod, "What is this music?  […] it's sort of metal and sort of punk, but proprietary to neither."  I hear defiance: song structures that defy predictability, an aesthetic that defies everything comforting and dear.  In the words of a great philospoher, "Sometimes I'm stuck together/sometimes I'm so unglued."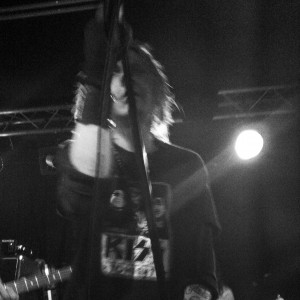 If you missed Eyehategod last night, you can see them tonight at the Acheron in Brooklyn.  They'll also be playing the Housecore Horror Film Fest, from 10/23/2014 -10/26/2014  at Emo's in Austin, TX.
Press passes courtesy of EHG and Earsplit PR.