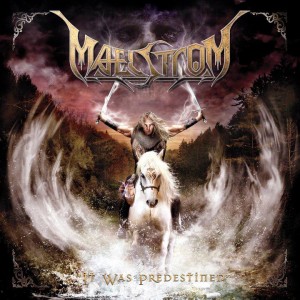 In the late 80s and early 90s, a young Long Island band named Maelstrom made waves in the northeast with their unique blend of thrash and power metal.  Inevitably, though, members went off to college, started families, and cut their hair, and Maelstrom joined the graveyard that so many good bands end up in.
But over twenty years later, Maelstrom has risen from the dead.
Inspired by an online review of their original cassette demo, founding members Gary Vosganian and Joey Lodes reformed the band as a studio project and put out the EP It Was Predestined in 2008.  This release gained great reviews from Blabbermouth and Metal Insider, and got Maelstrom named as one of the Best Unsigned Bands of 2008 by UK metal magazine Terrorizer. Alternative Control had the opportunity to interview Vosganian, Maelstrom's vocalist, about the band's reincarnation and plans for a 2012 full length album.  Enjoy!
Alternative Control: Was there a particular event that inspired you to reform Maelstrom?
Gary Vosganian: Well first off, thank you for the interview. […] Basically there was a fire lit under Joey and I after reading a review of our second demo tape "This Battle to Make History… Yet History Never Comes." It was a German tape collector and trader who has since become a good friend. That review sort of got the wheels in motion. His site is here: http://www.forgottensteel.de/
Aside from that, Joey and I just really felt this was something that was un-finished in our lives and something that we could actually complete – metal had become very relevant again in many people's minds the internet was making bands and fans more accessible to each-other and so the right elements were all converging.  It has taken a long time since those first thoughts entered our head as we are now both married and in careers and I have children. But we are both determined to see this project through.
AltCtrl: How is your songwriting and lyrical content different from the younger version of Maelstrom?  Did you guys write the EP songs then, or more recently?
GV: The EP is actually 3 songs taken from our 2 original 20-plus-year-old demos, they have been re-tooled and re-recorded but the essence of the original works is still at the heart of the songs – you can find our original demo versions out on Youtube.
To keep the feel of who we are as an identity we do still write similar music. We really consider ourselves a cinematic band and we never really felt that we needed to confine to a specific sub-genre, but would rather use whatever works at the time to create the mood and move the listener, and ourselves, be it thrash, death, power, prog, black metal…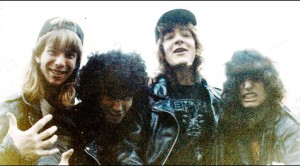 Lyrically, the tracks are almost identical save for a few things here and there. I write conceptually so the story was basically fleshed out 20 years ago.
For the balance of the album there will be several brand new songs.  We do try to write at least somewhat similar to how we did; however the tunes now are more melodic and more key and mode structured rather than pattern based writing. Joey as a writer has become much more sophisticated as he grew with the instrument and takes a lot of influence from modern soundtrack composers, James Horner most specifically.  We tried to attack the re-recordings with this philosophy in mind – whatever it was then, make it more now. Heavy became heavier, fast faster, and melodic "melodicallier." (Laughs) That was the idea this time around, make it more of what it was.
AltCtrl: How did you meet your new drummer Dan Kleffmann?
GV: I love getting Questions about Dan – I don't get enough of them!  We met Dan when Joey was a partner in a music school on long island – Joey was co-owner and also gave lessons, Dan had met him when he was looking to do side work as a teacher.
He loved Joey's playing and was anxious to do anything that would get him around Joey.  When Joey approached him about the Maelstrom project, Dan jumped at it and that was that.  Dan is a great guy and we could not have possibly asked more of him and he truly delivered.
AltCtrl: The recording quality on the EP is excellent — I read that you used a couple different studios/engineers (in part due to the untimely passing of audio engineer Greg Marchak.)  Can you tell me a little more about the recording process?
GV: The recording of It Was Predestined was a bit of an adventure.  After Jamming with Dan for a year getting all the songs up to the point we wanted them and re-tooling and re-writing anything that needed it we felt it was time to get the tracking started. When we first started this off and it looked like it would really happen I had this idea of getting Greg Marchak involved in the process.  Greg was the guy who tracked and mixed our "This Battle" demo and was also the engineer at many of our live gigs.   I loved his recording ability and his comic attitude is hilarious, which makes him a real pleasure to work with.
As we got close to the point we felt we could get in a studio I tracked him down, I had heard he was living in Florida and the internet is a pretty good tool for tracking people. After a little research I found him at Audio Labs in Tampa and called him up. It was great to speak to him again and he nearly shit when I told him we were doing it all again and wanted to fly there to track drums with him. So, we got the arrangements squared away and got on a plane.
It was an amazing experience to work with Greg again and I feel privileged to have his drum recordings on my album. He died shortly after tracking the drums with us; it was a huge loss and hurt a lot. The plan was to take the drums – do guitar here in NY with him getting fed tracks to make sure all was ok I was then going to go back to Tampa to cut vocals with him and do the mix. After his passing, that all changed.
We chose to cut the acoustic and solo guitars with Joey's friend and local studio owner Steve Booke of Porcelain God Studios of Lynbrook NY.  The bass and the rhythms we did with VUDU studios and I tracked vocals with Rich Leigey who was then working with VUDU as well
From there we were stuck for someone to mix, I reached out to a couple of "names" in the scene and would up getting a response back from the Legendary Tue Madsen of Denmark. Tue has worked with so many killer bands and I really dig his sound. So we went with Tue on the mix and that was the EP.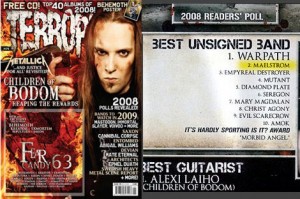 AltCtrl: It Was Predestined was released in 2008.  Is there a full length album in the works, and how is that going?
GV: Yes it was released in 2008 and hey it was written in '88 (well 88-91)  so I guess it has some legs! HA!
But to answer your question, yes there is an album in the works. […] I have in hand recently written demo versions of all but one of the songs on the album that are remaining – which is 7 more. So I have six that are fully written and ready to record. Most of the re-tooling and harmonies are worked out as are bass lines. And very importantly all the drums are tracked – they were done by Greg in '08 as I was not leaving Tampa without at least all the drums for this whole full length in hand!
The process is slow but the plan is to get back in studio in August and September to get the guitar, bass and keys done. […] My guess at this point is all music is wrapped by October, I track in October and November, and we mix in December.
Then we have to see about artwork, layout, and the promotional push, […] but I would hope to have at least a track or two out and circulating by year's end.  We are also planning a cover song, which will be released separately […] and will probably come out way sooner.
AltCtrl: Any upcoming shows? (Sans bass and keys?  Or do you have some buddies that can jump in for live performances?)
GV: Right now there are no real plans for live performances though I would love to play the material to an audience.  […] And yes, we do have some people that could step up and jam for us if we needed it.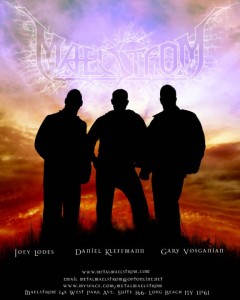 AltCtrl: What are Maelstrom's aspirations for 2012 and beyond?
GV: First and foremost to finish the album, we also really want to get this cover song out there, I think it will be a ton of fun so I really want to have that out sooner than later. Additional goals are to increase the fan base and get some great buzz going on out there. We really want to do a proper radio campaign – that was one thing that Maelstrom, neither then or now, had really ever done effectively.
AltCtrl: What do you, Joey, and Dan do when you're not playing epic metal?
GV: I have a family, so I am husband and father. I am in advertising and work in the graphics end of the field. I also deal with all the business and promotional side of the brand and band that is Maelstrom.  Joey is married and is a chiropractor and on his way to becoming a licensed MD […], and Dan is a full time musician and teacher and plays in several jazz ensembles.
Thanks again for the interview — keep it heavy!
You can find Maelstrom's music all over the internet — check out It Was Predestined and let us know what you think!