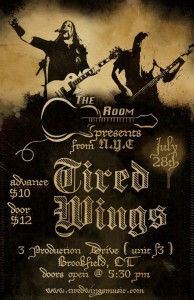 Five years ago, Charles Canedo and Luis Cambero were the rhythm section for a promising 6-piece metal project out of Brooklyn. Canedo carried himself with the confidence and presentation of a frontman despite playing bass, crowded alongside two guitarists and a vocalist. Cambero flavored the straight-up thrash with progressive elements and infectious rhythm from behind his imposing kit. It would be their shared frustrations with the direction the band was going in (or lack of direction, if you were to ask them) that lead to the side project that would very quickly become their primary musical devotion.
Tired Wings was founded on the principle of enjoying the music you make. They compose whiskey-soaked, herb-smoked hard rock, slathered in a Southern sauce. Assuming sole song-writing duties and taking up vocals, guitar, and bass on their recordings, Canedo flourishes as the brains of the outfit. His natural role as frontman couldn't have come more easily to him; he assumes the stage name Rev. Mongoose and employs a gritty vocal tone to croon about smoking and drinking and his love for rock & roll. If Lemmy and Danzig exercised their right to marry one another, the child they'd raise would sound like the self-professed Reverend. The riffs are as groovy and catchy as any from the realm of stoner rock, seeming to draw influence from Corrosion of Conformity and their contemporaries.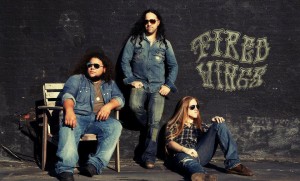 Many vocalists boastfully claim to have the Best Drummer in the World (I know I have — in fact I do currently). It's hard to argue with Mongoose's bold declaration. Cambero employs double bass with taste and rare fluidity, and while the straight-forward rock approach of Tired Wings' music doesn't allow for him to constantly melt faces, his opportunities to explode are that much more impressive in their isolation. When I enjoyed the pleasure of seeing them play Saint Vitus in their native Brooklyn this past week, Mongoose rasped "My drummer has something to say," and the ensuing drum solo literally dropped jaws, mine included.
The brothers-in-harm did a fair job of packing a very out-of-the-way dive deep in Greenpoint, on a Sunday night nonetheless. Their upcoming sojourn to our beloved Constitution State will be their first performance in Connecticut. Several shows are lined up in a stretch of tri-state gigs, kicking off July 28th at The Room in Brookfield, CT. If you have the opportunity to check it out, you've been summarily prepared for their incursion into the third-smallest and third-wealthiest state.
http://www.facebook.com/TiredWingsOFFICIAL
http://tiredwingsmusic.com/fr_tiredwings.cfm