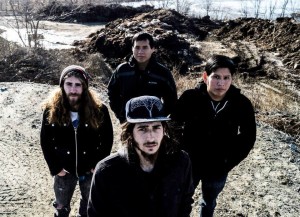 Hailing from Revere, Massachusetts, Travel Amygdala is on a mission to bring their industrial-influenced hard rock beyond the bounds of the Bay State.  Their upcoming tour will take them to Cherry Street Station on Saturday, August 22nd, along with Big Time Kill, Beat the Doll, Don't Cross the Streams, Devlyn Sydus, and Salem Wolves.  This weekend, Alternative Control asked the band about their travel plans and more.  Below are their responses:
Your Cherry Street show is part of a 17-day, 12-show tour you're doing in the Northeast.  I assume this band isn't what you guys do for a living.  How do a bunch of regular dudes prepare for a tour logistically? 
Preparing for this tour has given us all a few extra gray hairs. Our bassist Joshua Jackiewicz has been planning this tour since December 2014. Getting in contact with either promoters, bands, or venues in each one of the states we projected to go to has been more than a handful of work and very time consuming. Hundreds of messages and emails have been sent out since December leading up to the present.
Logistically it has not been the easiest either. As a band and more importantly as travelers you want to plan out a route that reduces back-tracking and adding on extra miles. There is also the financial standpoint of making sure we have enough for the rental, trailer, food, and gas. For the majority of the tour we are not staying at hotels, we will be camping in tents. The band also owns a Coleman portable two-burner stove. This will ensure that we can cook anywhere we want. You could say that the band really enjoys camping!
Your name sounds familiar — you've played Cherry Street in the past, correct?  Have you played any other CT venues?
Last year we played Drea Marie Presents' "Killer Sounds From Mostly Outer State" at Cherry Street Station. It truly was a blast from start to finish; all the bands were really diverse so everyone shined equally. That was the band's first time playing CT and again all thanks to Drea. We tried our best to play a show in CT before our tour this year for some pre-exposure but did not have any luck getting in touch with the right people. This year we were invited back to play the 2nd Annual Killer Sounds From Mostly Outer State as the co-headliner. We would love to continue to build our name in a respectful way in the great state of Connecticut. For now we have only played for Drea at Cherry Street Station.
What are some of your favorite local bands to share the stage with up in Massachusetts?  And speaking of which, what are some of your favorite venues to play?
There are tons of great bands that we play with up here in Massachusetts. Honestly it is hard to boil down the list. Some of the band's favorite locals to share the stage with include Harbor Lights, Apollo's Resurrection, Potsy, Before The Judge, Beneath The Machine, My Missing Half, Sonic Pulse, Epicenter, S.E.M.I (Side Effects May Include), Thirty Silver, and many, many more.
Our favorite venue hands down is in our hometown of Revere by the name of Sammy's Patio. This is where the band got our start and has been able to build our loyal following out of. Anytime we have an out of state or touring band we always try our best to play with them at Sammy's to ensure a great crowd. We also really enjoy the Cantab Lounge in Cambridge. This is where Drea Marie actually discovered Travel Amygdala.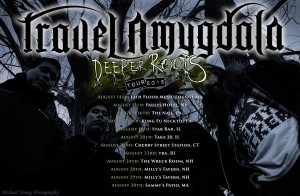 You say in your "about" section on Facebook that all band members are songwriters.  Can you talk about how you manage that collaborative process between four or five people?
Joshua Jackiewicz (Bassist/Vocalist) is the main songwriter of Travel Amygdala and has written the majority of the music. Being a multi-instrumentalist Joshua has a really great foundation of understanding what goes into writing a great tune. From time to time other members like Alexander Paiva (Drummer), James Paiva (Guitarist) have come to the table with a riff or idea and it is executed and written as a group effort. Derek Jackiewicz (Synth/Vocalist) is a fantastic lyricist and song organizer. He  writes lyrics with deep internal meanings, metaphors, and really paints a picture for the listener. Josh will write the majority of a song and Derek will help to trim the fat and get it to a very polished state. The difference between the lyric styles of Josh and Derek are really Yin and Yang. Derek writes more metaphorically with creative tongue twisters and near perfect grammar, while Josh's writing style is more sincere with clever rhyming schemes and a straightforward point that screams in your face. It is kind of like Jim Morrison (Derek) and Layne Staley (Josh) in a sense. The difference in their writing styles works perfectly together. These two were born to write music together.
To paraphrase how you explain your band name, "Travel Amygdala" means a figurative journey through emotions.  What are some of the challenges the band has faced on its journey to become more widely known?
You are more than right to say that this band has been quite the journey. We have had our ups and downs as band. We have gone through some line-up changes, which as you can imagine slows a lot of forward motion. We have lost practice spaces, been strapped for cash after costly recordings, and everything in between.
The band has been formed since early 2009 and although we have one of the best followings in Massachusetts we realize that is lacking in other states. That is why we are trying to become more of a touring/regional band. Last year we did a test run tour where we played in Massachusetts, New Hampshire, Vermont, and Connecticut. Leading up to this year's tour we played mainly out of state, playing in new states like Rhode Island, re visiting states from last year's tour, and extending out to Western Massachusetts. Other bands that are in our area are currently scoring a lot of endorsements, sponsorships, and management deals and that is something we are trying our best to do as well. The band realizes in order to achieve this we need to become more widely known, which is why this tour is going to be so important for us.  We have played Massachusetts enough, it is time to move on to some other states and hit their scenes.
How is the rhythm guitarist search going?
The search is going quite well. We have built a very good reputation for ourselves both as a band and as people. There is a very big line of people who are wiling to try-out for the band. We are equally as excited to have them give it a shot. After tour we plan to host the tryouts. More information to follow regarding the position and thank you very much for asking!
What's your vision for the future of Travel Amygdala?
Our vision for the band is what I guess what most bands hope to achieve. Everyone wants to be the next Beatles, the next Nirvana, and that is what we are aiming for. We want to go all the way to the top. We want our music to touch the masses and make a true difference in people's lives. This world is a tuff, cold, and at times distant place. We want to provide our fans with a place they can truly call home, completely judgment free and all embracing
When we reach said success, we are striving to start our own record label and change the music industry for the better. Too many bands nowadays are getting completely shafted by these 180 or 360 deals. That is not something that we are going to embrace; we want to help bands as much as we want to help ourselves. It seems like a huge undertaking but it is something we have had on our minds for quite sometime now. What we are doing currently to work up to the status of label is owning and operating our own booking company by the name of Travel Amygdala Presents, starting a t-shirt/merch printing company after tour, getting radio affiliates to play our clients music, and some other surprises we will keep under the radar for now.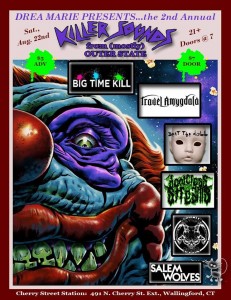 That's all, folks!  You can find Travel Amygdala on Facebook, ReverbNation, and the web, and around the eastern America on the following tour dates:
August 14th: 13th Floor Music Lounge MA
August 15th: Paulys Hotel, NY
August 16th: The Nail, PA
August 17th: Kung Fu Necktie, PA  (cancelled)
August 19th: Star Bar, IL
August 20th: Take 20, IL
August 22nd: Cherry Street Station, CT
August 23rd: TBA, RI
August 24th: The Wreck Room, NH
August 28th: Milly's Tavern, NH
August 29th: Milly's Tavern, NH
August 30th: Sammy's Patio, MA
For more from Alternative Control, find us on Facebook or follow on Twitter/Instagram at @AltCtrlCT!