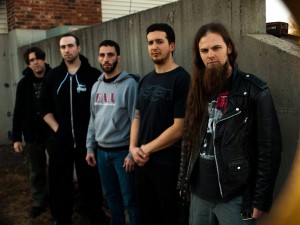 Xenosis has returned, and they're even better. It's easy to claim favoritism when lead guitarist Mark Lyon happens to be a personal friend, but Sowing the Seeds of Destruction is genuinely awesome – a focused, well-trained creature of extremity and maturity. I might even claim it as the strongest local metal release I've heard yet. Let me explain myself.
No doubt this music is easily labeled. This is progressive death metal through and through. But being simply defined doesn't always mean things can be simply explained. Looking past sound and approach, you can't deny the musical knowledge required to create an album like this. Adding the word "technical" is redundant. Obviously this subgenre requires remarkable skill and all the band members here have what it takes. I'm talking more about talent towards composition and creativity. Let's deconstruct…
Compositionally, Xenosis straddles the line between difficultly melodic and approachably harsh. This musical oxymoron makes sense when you analyze what's going on in their songwriting. The band perplexes the listener only to the point of relinquishing boredom. Death-like serpentine riffs are written to be thoroughly entertaining, stretching and dribbling and hammering in a strangely wild yet simultaneously contained manner. This sense of control allows the band to smoothly work away from a death metal onslaught into melodic lines progressing in Tool-like fashion towards a musical sci-fi city of grandiose beauty.
Striking, almost pleasant-sounding moments of major chord fancy caught me off guard on my first listen. It's not every day that you hear a progressive death metal band so gritty and convulsing achieve such accessibility without wavering in intensity. All the while, present in both their deadly and glorious moments, mathematical experiments weave and circulate with absolute precision. It's impossible to be bored while stuck in the middle of an equilateral triangle of morbidity, melody and math. That's what Sowing encompasses.
The geometric synchronicity of the album cover supports my album analysis. There's tremendous harmony in Xenosis' musical execution and all five members play an equal role. On top of this, the songs show a colorful, pleasing vibrancy. The apex of that emotive power is Mr. Council's guest appearance on "From Flesh to Dirt." In fact, the whole song exudes super dramatic power. Other highlights include the somewhat schizophrenic "Turn Over Thy Crown" and death prog closing tracks "Czernobog Part 1 and 2."
The band hit a homerun with this release. I hope that the recent hiatus and changing band personnel hasn't had any negative effect on Xenosis' longevity. They obviously have a lot to offer the metal scene. This is a strong 9 out of 10 for sure. Excellent work, boys!
Make sure you check out the band at their upcoming performance opening up for Suffocation on August 21st at Cherry Street Station in Wallingford CT. Get there early, because they go on at 6:30! And absolutely make sure you pick up a copy of Sowing the Seeds of Destruction for yourself!
You can also catch Xenosis September 26th at Cherry Street with Eyes of the Dead, Prostitution, and Sun Dagger.
To keep track of all Xenosis' exploits, find them on Facebook, Twitter, and bandcamp.
And for more from Alternative Control, find us on Facebook or follow on Twitter/Instagram at @AltCtrlCT!