Everyone wants to be anthemic these days, including UK alt rockers Joykill Collective. They're against something in their new single "Battle Cry," but I didn't know quite what because I couldn't understand the lyrics outside of the chorus.  Thus, I went to the music video for elucidation:
At first, I wondered why a hot chick in lingerie was painting stuff.  But as the video progresses, we see that she's making protest signs — and at some point, she decides "Fuck this shit," burns the signs, wipes paint all over her face, and bites her tongue really hard.  This statement on the difficulty (futility?) of fighting The Man ties into Joykill Collective's greater philosophical mission; the band is actually a network of musicians and filmmakers who live in a commune when they're not traveling to places like China and Kazakhstan for artistic inspiration. Supposedly they even grow their own food in the commune's rooftop garden (when they're not in Kazakhstan).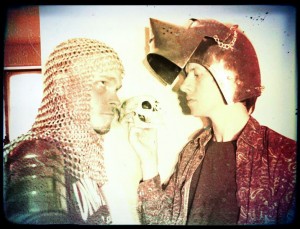 Even though the song gets aggressive at the end, it was more of a battle cry for rooftop-garden-philosophizing than taking to the streets.  However, every fist in the air starts with a deep conversation somewhere, so I wouldn't discount Joykill Collective just yet.  Let's see what inspiration their journeys bring.
For more from Alternative Control, find us on Facebook or follow on Twitter/Instagram at @AltCtrlCT!
This post was sponsored by Independent Music Promotions.  All opinions are our own.