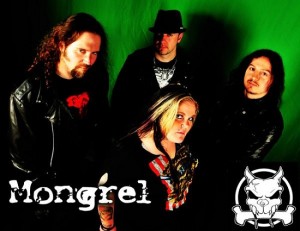 In June of 2010, Jessica Sierra got a phone call from Mongrel guitarist Adam Savage that went something like this:
"How would you feel about covering a few shows for us?"
"When?"
"In three days."
So, Sierra learned the punk band's entire set in thirty-six hours and has been singing with them ever since.
Based in the Boston area, Mongrel began playing in 2003 and received many accolades with former vocalist Drew Barker. Their aggressive blend of punk and metal has been compared to Metallica, The Misfits, and Guns N' Roses.
Mongrel continued to play its old material when Sierra joined the band – the only obvious difference being that a male vocalist had been replaced with a female one. Sierra was no stranger to heavy music, though, having toured with the band Affliction for several years. Her singing suits Mongrel's music well, alternating smoothly between aggressive verses and melodic, emotionally charged choruses. As for being part of a "predominantly male scene," Sierra said, "I never had any problems because it was never a pissing contest to me. I'm gonna come out and do what I do, and you're going to like me – or not. I don't give off that aura of 'Please fuck with me.'"
So far, nobody's fucking with her or complaining about Mongrel's revised lineup — which also includes drummer Dave Kazukiewicz . The band's 2010 EP has the fitting title A New Breed of Old School, given that it features six tracks off their previous album Fear, Lies, and Propaganda. "A lot of bands take a risk when you re-release stuff that's already been recorded," said Sierra. But thus far, the material has been "really well accepted" by Mongrel's fans.
A full length album of new tunes is in the works and set to be released in May 2011. Sierra spoke highly of Savage's songwriting skills, saying, "Adam can pretty much do anything!" And Mongrel's previous material shows that: songs like "West Memphis Hell" and "The World Loves a Tragedy " grab you by the throat, while "Bound to Crash" has a 90s rock vibe that is almost… sensitive?
For better or worse, more lineup changes are also in the works for Mongrel; bassist Rev has left and Mongrel is currently auditioning a replacement. "There's no bad blood," Sierra said of Rev. "We're all still friends and we all go to shows together. Rev is a great bassist and has amazing stage presence… They're big shoes to fill."
Rev is willing to fill in if the band is in a bind, so Mongrel won't be missing the low end at any of their upcoming shows. They'll be playing all over the Northeast this spring and summer, so keep an eye out. With their headbanging riffs and distinctive vocals, this band is going places — and you heard about 'em first at Alternative Control!
Upcoming Shows (Revised 9/18/12)

9/28/12: Mongrel's Reclamation CD release party at Trash Bar in Brooklyn, NY
9/29/12: w/ A Mirror's Embrace (Willimantic, CT) and more at Silver Lake Park in Athol, MA
9/30/12: w/ American Hellbilly, John Monstro (Manchester, CT), and more at Tammany Hall in Worcester, MA
10/12/12: w/ The Misfits, Shadows Fall, God Forbid, and Vision of Disorder at The Palladium in Worcester, MA
4/16: Milly's Tavern in Manchester, NH with Mindset X (NH) and Q (TX)
4/22: The Palladium in Worcester, MA with SEPULTURA and many more (see Show Listings)
4/23: 802 Music in Springfield, VT with Midnight Saints (VT)
5/7: Silver Fern Bar and Grill in Claremont, NH with Midnight Saints (VT) and The Pretty Corpses (NH)
5/14: Flask Lounge in Portland, ME
5/19: Europa in Brooklyn, NY with Resolution 15, Slam One Down (NY), and DJ JennCity (NY)
5/20: Mad Bob's Saloon in Manchester, NH with Mindset X (NH), Fishing for Humans(NH), and Farewell to Washington (NY)
5/21: Anchors Up in Haverhill, MA with Vagora (RI)
5/22: Tammany Hall in Worcester, MA with Farewell to Washington (NY), Scarecrow Hill (MA), The Evil Streaks (MA), and Fifth Freedom (ME)
Links