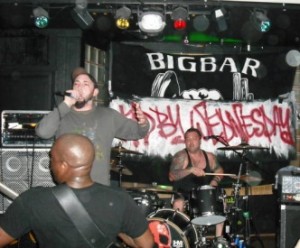 On one recently gorgeous day of spring attempting to break through the barracks of this crazy winter season, I found myself sitting down at a table outside of Delaney's in New Haven. Sitting in the chair opposite mine was someone I know from my high school years, and it's great to know that such artistic talent can arise from my hometown of Hamden. Quite the character this one is, with an intense love for hilarity…and music.
When asked, "How many tours have you guys done?" the only response to be received was with a grin and laugh, as Joe Morbidelli of Dead By Wednesday stated, "I have no idea, we are on tour a lot. I've been on three or four big tours with the band, but we also do lots of weekend warrior shows."
A local band of sorts, due to their Connecticut origin, this band is hardly local when it comes to playing shows — from CT to New York, Pennsylvania, Massachusetts, Ohio, and the list continues. With their third album release, Dead By Wednesday will even be making an appearance in Germany.
JS: Why Europe?
First we had greatly divulged into conversation about European metal and how the scene out there holds more popular ground than it does here in the States. There is definitely a grander appreciation, as Joe explains why DBW decided to release their new album The Last Parade in Europe: "They seem like they want us to get the attention they believe we deserve."
JS: So, how is traveling with the band?
Joe: It's fun, I don't like to get stuck in a place for too long. It can get tiring, I just love it; I gotta have it. It's in my blood, I know that.
His life in music began by picking up a bass, secondly a guitar, and then with "a bottle of whiskey and a microphone," a Frontman was born. This mode of emotional outlet seemed to spawn the true musician hidden inside the crazy boy from Hamden. Although he still dabbles with the instruments from time to time, mostly he is singing, writing lyrics, and collaborating with DBW's drummer Opus, bassist Michael Modeste, and guitarist Ross Ragusa.
Every band needs a great frontman, but there's more to being the center-whore of a stage than just singing, and Joe Morbidelli fits the stage in more ways than one. Hilarious commentary and random jargon between songs, jumping around on—and off—stage; engaging the crowd in songs and screams and chants, and on one occasion dressing up as a banana for their annual January show, Opus's Birthday Bash at Toads Place.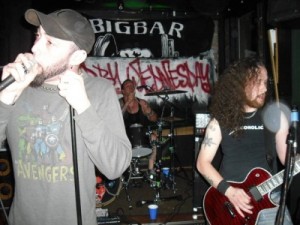 "Just because I'm screaming, doesn't mean I'm pissed off…I like to goof around between songs on stage," states the lead singer of DBW. With a lively stage presence, developing artistic lyrics, and a voice which brought the group from transitioning genres of punk and hardcore to a more metal hardcore resonance, Joe has proved to be a significant addition to the band. Progression is the attitude and originality is the nature of the Dead By Wednesday sound. The original singer is far from gone, however; Cheschi Ramos, whom though no longer along at shows, is still an amazing influence in the band. Joe explains the help he got while working on the third album: "We go back and forth a lot, bouncing ideas off each other. Me and Cheschi have very different styles, but I'm pretty open with what he has to put down and it works."
You can check out for yourself and see what works, or doesn't, but disappointment will not play out in their notes. The third album, The Last Parade, is due to release in September with a U.S. release date shortly after. This crazy lot of muther fuckers is also on youtube.com, though a much better experience in person, and there are many places you can hear and buy their music. Check 'em out!
Dead By Wednesday's Upcoming Shows:
5/11 @ Comcast Public Access Studio in Norwich, CT (for an episode of Metal Cyndicate, airing on 5/15)
5/14 @ Burrito Rojo in Turner's Falls, MA
5/27 @ Cook's Café in Naugatuck, CT
5/28 @ Reverb in Reading, PA
6/4 @ The Met in Pawtucket, RI
6/5 @ Al Rosa Villa in Columbus, OH
6/6 @ Bada Brew in Crest Hill, IL
6/7 @ The Cloisters in Johnson City, TN
6/8 @ Club Fresh in Springfield, MO
6/10 @ Lola's in Ft. Worth, TX
6/13 @ Club Atlas, somewhere in CO.
6/15 @ Whiskey Lounge in Grand Rapid's, MI
6/16 @ Q-Club in Darrien, IL
6/17 @ The Brewery in Troy, OH
6/18 @ Gullifty's Underground,Camp Hill, PA