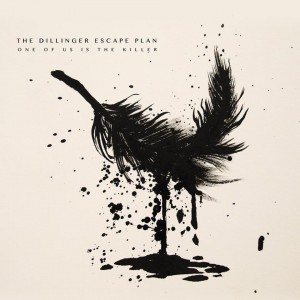 By Thomas Pizzola
It was quite a year for heavy music, as many bands released many great albums — so many in fact, that it was impossible to cut this list just down to ten.  This list reflects nothing but my own personal tastes and what I kept going back for multiple listens throughout the year. You may not see some major releases on here. Well, I can't review and listen to everything, so I just go with what I want to hear, and this year it has been a lot of weird, noisy loud rock and hardcore as well as tons of proto metal, with or without a siren-like vocalist singing about the occult.
And, oh yeah, my favorite band has the number one album. Go figure.
The Dillinger Escape Plan – One Of Us Is The Killer (Party Smasher/Sumerian)
I know many people who have written off this band years ago, but those who have are missing out on one of the most dynamic and in-your-face-bands of the past two decades. They just always come up with new ways to blow your mind, molding what they've done before into something new and exciting. This album is no exception. It's like they had something to prove, and gave this one a little extra-shot of juice to catapult it into classic territory.  And after witnessing them headline Summer Slaughter at the Palladium, they are still one of the most lethal live acts around.
Coliseum – Sister Faith (Temporary Residence)
The beauty of this band is how main man Ryan Patterson is able to combine very different strains of loud rock into a fiery brew. You'll hear traces of indie rock, hardcore, post punk, and even hard rock in the band's sound. It didn't hurt that he wrote one the catchiest albums of the band's career, while still retaining their Southern gothic mood. Whether it goes at you fast or slow, this one slays and it was meant to be played loud, with the windows rolled down, cruising down the road. If you say nobody makes interesting punk rock anymore, hand them this record. Don't have to mention how they killed it live at a woefully under attended show at Cafe Nine earlier in the year.
Pissed Jeans – Honeys (Sub Pop)
The great thing about Pissed Jeans is how some seemingly normal day job dads can make such weird and crazy music and yet somehow make it catchy and anthemic. This album shows the band streamlining their sound a bit and giving straight up doses of twisted sludge punk that hit all the right pleasure spots. Some say there is a mini-resurgence in this type of music. I wholeheartedly agree. Hardcore and punk were getting too predictable, so we need a new bunch of filthy bands to help us wallow around in the dirt and take on the banalities of modern life with anger and humor.
Blood Ceremony – The Eldritch Dark
Are some of you getting a little sick of occult rock resurgence? I'm not, but only as long as bands like this keep putting out albums as good as this one. When Blood Ceremony released their debut a few years back, there weren't a lot of bands doing this sort of thing, and being first has allowed them to stay ahead of the pack. This one has little more energy to it than there last record, Living with the Ancients, and even manages to work in folk into the mix. Still, the riffs are deadly and vocalist/flautist Alia O'Brien provides the proper witch-like presence to make this work.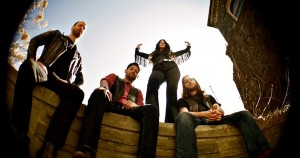 Doomriders – Grand Blood (Deathwish Inc.)
Those who just look as this band as another side project for Converge bassist Nate Newton are totally missing out on one of the better loud rock acts currently active. It's been four long years since their last opus, Come Alive, put them on the map and set a high bar for so-called "side projects." They follow it up with a darker, noisier record that tackles issues of mortality and one's place in the grand scheme of things. Still, it's far from morbid, which each song offering a catharsis for the listener.
Purson – The Circle And The Blue Door (Rise Above/Metal Blade)
This group of young English upstarts, lead by the stunning and stunningly talented Rosalie Cunnigham, conjure up the best parts of early 70's rock.  Just give a few spins and you will be under its darkly beautiful spell. It's lush, sensuous, and street tough. And the crazy thing, this is their first record. They are just warming up.
Sandrider – Godhead (Good To Die)
Fortunately, indie-folk's season is soon coming to an end in the Pacific Northwest. Seattle and Portland are starting to get loud again. Sandrider come from the birthplace of grunge and invoke the best of its city's loud and proud past, with a noisy post-punk sound that is infectious, anthemic and dare I say a little grungy. I interviewed lead singer/guitarist Jon Wiesnewski for another publication last year and he told me that "not giving a shit was the new DIY." If that's the case, then many bands better start not giving a shit, because they have a lot of ground to cover to catch to these guys.
Hot Lunch – S/T (Tee Pee)
This has to be the best proto metal/punk album of the year. In a field where many bands are jumping on this bandwagon, San Francisco's Hot Lunch separates themselves from the thrift store clothes wearing pack with healthy dose of volume, attitude and versatile songwriting, that can go from proto-punk burner ala the MC5 to something a little more proggy and trippy like Love, at the drop of a hat. It also helps that vocalist Eric Shea can belt it out with the best of them, and a guitarist Aaron Nudelman practically shoots sparks from his frets. This makes you realize that before metal sound was codified, there were bands willing to play fast, loose, and loud and not care about the results.
American Sharks – S/T (The End)
Don't let some people think just because something is fun and goes down easy, it's not a release worthy of merit. These Austin-based metal-punks blow through about 9 songs in 19 minutes, getting in and rocking out before more "serious" artists are just playing their first riff. In a way they come like a heavier Supersuckers, in that they take Texas sized rock attitude, install with a sly sense of humor and then just crank it up and turn it out. You may have seen them, demolishing stages opening for Clutch and the Sword recently. In addition, they win bonus points for having a video for their song "Overdrive" that is an homage to 1980's cult classic Repo Man.
Whores – Clean (Brutal Panda)
The second release from this viciously heavy Atlanta noise rock trio picks up where their debut Ruiner left off. This is angry, aggressive stuff, shot through with intelligence and heart. If you want proof that people still lay it on the line and play like they need it, this is your proof. There is not one false note on this whole album. They are also an incredible live act, so when they come to your town, do not miss out.
Czar – No One Is Alone If No One Is Alive (Cracknation)
This bassless trio from Chicago takes a multifaceted approach to their noise. They take the technicality and brutally of modern metal, combine it with industrial influenced rhythms and a post-punk sense of adventurousness to make a multifaceted beast that is forward thinking and always ass kicking. Their debut, Vertical Mass Grave, garnered them well deserved praise from the metal press (even earning them an opening slot on Killing Joke's last United States tour), but this one is even better. Don't sleep on this band.