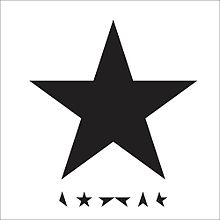 David Bowie left us with a parting gift. It's a gift that almost brings me to tears. Not only because it's his last piece of art to the world, but also because of its sheer creative genius. Even at a sickly 69 years old, the man never compromised his vision nor settled his restless nature to explore every aspect of himself. Blackstar is Bowie once again and for the last time, reinventing his image. And even though the theme of death permeates this entire recording, there's also a tremendous resistance; a battle against the inevitability of aging, sickness and non-being. And this is what makes his death so sad to me. He had a lot of fight left in him, and a lot more to say, write and do. I guess cancer had other plans. Seriously, as if it hasn't been said before, fuck cancer.
Musically, Blackstar is a jazz album at its core. Its smokiness and almost romantic mellowness reminds me of some of the most relaxing pieces of music from modern contemporary jazz artists. Yet a song like "Tis' A Pity She Was A Whore" shows the wilder side of this influence, with a brass section that paints all outside the lines of this frenzied composition of looping drums and saccharine singing.
Bowie spreads a little playful piano and saxophone icing over jazz and adds a layer of electronic music. Amazingly, most of the drumming on Blackstar is performed by a human named Mark Guiliana. A little digital sound processing adds the electronic touch. This gives Blackstar both a jazzy and danceable identity without sacrificing any organic elements.  This isn't music made by machines. It's the music of aliens imitating Earthling culture. Another spread of synthesizer and digitally manipulated string section icing rockets the music into space – very fitting for rock music's original spaceman.
The final layer is made of rock. But it's a loud, industrial, jarring slab of rock. Distortion infiltrates the depressive desperation of "Lazarus", dirties up the galloping drive of "Sue (Or in a Season of Crime)", and gives soulful rise to the conclusion of "Dollar Days."
Smack it all together and we have a musical cake of jazz, dance and rock music. But the icing is black, just a bit glittery with sugar and just sour enough to make us feel naughty for eating it. David Bowie is a little afraid, decrepitly glamorous and even a bit rude. Blackstar is an avant-garde goodbye, a great artist's retirement and a huge middle-finger to a younger generation of artists who think that old artists are all dinosaurs and have no way with competing with their so-called "fresh" ideas. It's a breath of fresh air in a musical world where age far too often means irrelevancy.
David Bowie will be missed for a very long time. It's almost surreal knowing that he's not of this world anymore. He's a modern legend, a huge personal inspiration and a one-of-a-kind human. I listen to Blackstar with an almost teary smile, knowing that at a mere eleven days into the year, I've pretty much found my album of 2016. Sorry for the spoiler. Not sorry for my fanboyish praise. Godspeed to you, star man.
For more from Alternative Control, find us on Facebook, Twitter, Instagram, Soundcloud, and bandcamp.