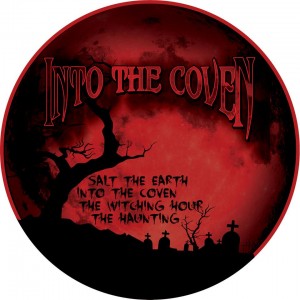 Into the Coven is a band that can't be kept down.  Coming off a hiatus and some major lineup changes, they will put out their second EP on November 14th at The Spot in their hometown of Bethel, CT.
The untitled release features three previously recorded songs and one brand new track, "The Haunting."  ITC fans will notice the change in vocalists, with Jesse "The Butcher" Buescher now taking the mic.  His snarls and growls add a darker edge to ITC's already-gritty sound.  The high clean vocals on "Into the Coven" sound like a stretch for Buescher's range, but he shines especially on "The Haunting" and "Salt the Earth."
TJ Gramolini and Matt Rushka cover guitar duties on the EP, although Rushka has since left the band.  (Rob Moore is now filling that guitar spot.)  "Into the Coven" and "The Witching Hour" have particularly artful leads and solos from Gramolini, who AltCtrl readers will recognize for having the best hair in Lightsbane and also being quite an impressive guitarist.
And of course we won't forget the rhythm section.  Bassist Adam Rushka (big brother to Matt) has definitely listened to an Iron Maiden album or two — but while the Steve Harris influence shows, his lines still sound original.  Plus, the bass tone is full and clear without overwhelming the recording.  It's nice to actually be able to hear a bassist in a local metal band.
Then there's drummer Josh Scalzo, the backbone  of it all.  This EP shows his versatility; "The Haunting" is a big change from the first three songs, driven in part by Scalzo's approach to the drums.
Speaking of "The Haunting," this track indicates the direction Into the Coven is headed: heavier.  There are still nods to a classic metal sound, like the bridge/solo section, but on the whole it's less Pentagram/Maiden and more Eyes of the Dead.  And to use a metal review cliché, the intro is fucking bone-crushing.  Buescher's vocals are perfect for this style; he sings distinctly without sacrificing gravelly menace, a hallmark of ITC's new sound.  (They're not completely leaving Maiden behind, though — practice demo "The Fallen Stand" meets in the middle of "The Haunting" and "The Trooper.")
Overall, the EP symbolizes a transitional period for Into the Coven.  The recording itself could be more polished in places, but ITC fans will still be stoked about this first step back into action.  If "The Haunting" is any indication, the band is well on their way to writing fresh material that shows off the strengths of their current lineup.  I'm also hoping they book a lot more shows!
For more from Into the Coven, find them on Facebook and Reverbnation.  And for more from Alternative Control, like us on Facebook or follow on Twitter and Instagram at @AltCtrlCT!