According to the editor of this blog, I listen to some pretty weird music. While I guess calling something "weird" is just a matter of perspective, I do admit I sometimes listen and champion music that plays a little too much in the boundaries of several established scenes. I like it there, though it's not all I listen to. (That would also be weird hardcore, proto-metal and female-lead occult rock bands. I guess I'm not helping my case here.)
Right now, there is mini-revolution going in the underground. Noise rock is making a comeback. Bands are just getting down, turning it up and getting loud, weird and angry. Many of the touchstones of this form of music go back to certain bands and labels in the 1990's, but the best ones manage to mix these sounds with other types of influences to form one feral mongrel.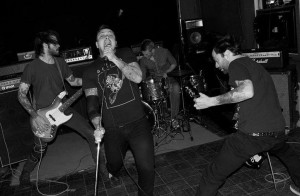 And yes, it's made its way to Connecticut, as evidenced with releases from Intercourse and Grizzlor, who along with Sperm Donor and Fins are giving loud rock fans something weird, different and wonderful to chew on. It's too early to call this any kind of movement, given how fickle Connecticut music fans can be, but the fact that these bands exist and are putting out some exciting sounds should count for something. Well, at least to me.
Intercourse trades in the more hardcore-influenced end of the noise rock spectrum.  On their self-titled EP (available on their bandcamp page and soon to be on cassette), they bring smiles to the faces of reprobates who like the mathy, aggressive sounds of bands like Coalesce and Daughters.
"No Falafel" is a disorientating piece of dementia bolstered by the barbed, angular guitars of Kevin King and the thoroughly maniacal, scream filled rants of vocalist Tarek Emad Ahmed. "Fly Tape" brings some mathcore tendencies to the forefront and also features a solo disguised as a feedback-laden outburst by King. "Birth Of A Neighborhood" throws up some big rock riffs, while "Abominable Buzzkill" is more urgent hardcore inspired noise. "Town Plot Prowler" could be the companion song to Pissed Jean's "Human Upskirt" in that it details the exploits of a less than savory character. "Shit Head Plague" and "Iodine" are blasts of short, sharp noisecore.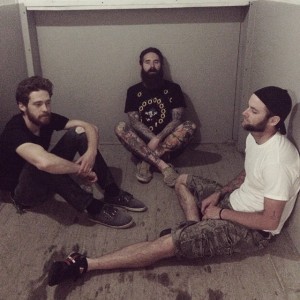 Their counterparts in Grizzlor, who were actually in the running for the Best Metal Band award at the last CT Music Awards, play in the more metallic end of the noise rock spectrum, as their riff based sound is very much influenced by bands like Helmet and Unsane. In fact, Unsane's front-man Chris Spencer is interested in working with the band for his newly formed Lamb Unlimited label, which has just put out killer releases by Portland-noise rock mainstays Rabbits and Spencer's own, The Cutthroats 9. In addition, the band tentatively has a tour booked with Norwegian punk rockers, and Alt Control favorites Barren Womb for the spring of next year.
In the immediate future, there is a record release show for their new 7″ EP, "When You Die", on Money Fire Records at Three Sheets in New Haven on October 4 with the aforementioned Sperm Donor and Bardus.
After giving a listen to their debut EP, We're All Just Aliens, you can hear why they are garnering a lot of attention.
"Socially Awkward" lurches forth on a big blown out riff and some thundering percussion. "Smoking Kills" and "Drinking Blows" takes you right into the gutter with the band and features some feedback freak outs disguised as solos. "Die Alone" gets its doom on, throwing in more feedback frenzy solos, while "Boring Guy" gets even more angry and in your face. The title track, which closes out the EP, has a pace that could partially described as jaunty, even making time for some psuedo-surf rock style riffs, that go along fine with the fuzzed-out guitar carnage. Eventually, it just devolves into an insane spoke word rant about the origin of our species.
Both of these bands provide exciting blasts of noise rock that draw on a variety of influences, that will quench your interest for something a loud and different. While it might be a little early to say noise rock mania is running wild in the CT, the fact that bands like this exist in the state, is reason enough to hold out some hope, that we can produce bands that turn out more than just what is expected. Seriously, give these bands a listen, it's some cool stuff.