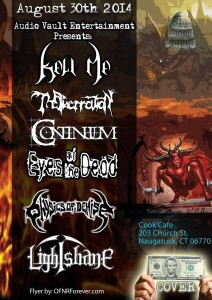 … Don't worry, Alternative Control has some suggestions.
Saturday, 8/30
Kali Ma, Eyes of the Dead, Lightsbane, Continuum, Physics of Demise, and the Abberation at Cook's Café in Naugatuck  — A bill packed with local Connecticut metal favorites and a two-piece instrumental band from Vermont (The Abberation).  Kali Ma's guitarist moved to Florida and they only play a couple times a year when he comes up to visit – so see CT's instrumental metal posterboys while you have the chance, because who knows when the next show will be!  Plus, Eyes of the Dead will be playing some unheard tracks from their upcoming album.  Lightsbane begins the mayhem at 8 p.m. sharp, so get there early!
Killer Sounds From (Mostly) Outer State at Cherry Street Station in Wallingford —  It's an invasion!  Featuring Massachusetts bands Travel Amygdala, Transdusk, Devlyn Sydus, and Antidote for Annie, flanked by CT's John Monstro and Zombii, this is a night for industrial metal fans.  There will also be a raffle with prizes from Haven Body Arts, Redscroll Records, and more.

8/31
ZZ Top and Jeff Beck at Foxwoods in Mashantucket – Not technically metal, but ZZ Top and Jeff Beck are way more brutal than you and I.  When the Beck and Yardbirds were inducted into the Rock n Roll Hall of Fame in 1992, Beck said to the crowd, "Someone told me I should be proud tonight … But I'm not, because they kicked me out. … They did … Fuck them!"  That's pretty fuckin' metal.
All Weekend Long
The New York Renaissance Faire in Tuxdeo Park, NY (Saturdays, Sundays, and Labor Day til 9/21) — Let's face it, most metalheads are secret or not-so-secret fantasy nerds.  Ask them what they think about Norse mythology or Robert Jordan's Wheel of Time series, and you'll see what I'm talking about.  So what better way to indulge your true identity than to enjoy and afternoon at the Renaissance Faire??  Devour a turkey leg, get your fortune told by the Wise Woman, and take part in a Maypole dance, just a 45 minute drive from the Fairfield County area.  Check the site for special events going on each weekend.
Bonus
Arsis, Allegaeon, Exmortus, Prosper of Perish, Lor, and Lightsbane at Championship Bar & Grill in Trenton, NJ  (9/2) — Not on Labor Day weekend, not in Connecticut… But I think it's awesome that a local band has an opening spot on such a great death metal bill.  Too bad the show is in southern New Jersey on a Tuesday…  (And too bad you missed our ticket giveaway!)  This is probably not a drive many CT folks will be making, but the tour is coming to Manhattan's Santos Party House on 9/3 — unfortunately without our hometown boys – if you want to see the headliners.  And if you go to either of these shows, you'll probably get to witness some high quality crab-core…
What are YOU doing Labor Day weekend?