Traditionally held at Irving Plaza or the PlayStation Theater, this year's Summer Slaughter quite literally brought extreme music back to the underground. Hosted at the subterranean (Le) Poisson Rouge, it was as though Hell itself was having a party right below Bleecker Street. As a triple headliner featuring Cattle Decapitation, Carnifex, and The Faceless as the top billed acts, Summer Slaughter once again brought a legion of heavy hitters to New York City. As taxing as eight hours of standing-room-only can be even with proper footwear, Alternative Control was On the Front Line!
Flying the flag for the next generation of extreme bands, Brand of Sacrifice started the night off with massive breakdowns and guttural vocals that would put any movie special effects team to shame. With their sophomore album, entitled God Hand, released this July, Brand of Sacrifice are poised to become the architects of the new wave of deathcore alongside bands like Filth and Shadow of Intent.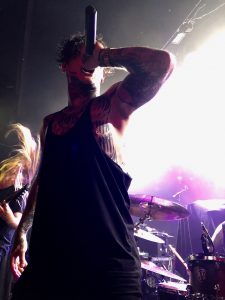 Coming from the school of The Black Dahlia Murder and Thy Art Is Murder, New Jersey's Lorna Shore had fists flying in the pit with little effort. Following the departure of vocalist Tom Barber in 2018, the screeches and gurgles of CJ McCreery take an already sinister sound to a darker level. With songs like "Godmaker" and "This Is Hell," Lorna Shore carries an aura forged in a level so dark, Dante left it out of Inferno.
Can you think of a time when a band has decided not only to utilize a "gimmick," but has openly declared it? If it hasn't been done before, Necrogoblikon is the first, doing just that through a song called "We Need A Gimmick". What makes them special is their stature as exceptional musicians demonstrated by the anthemic "Dressed As Goblins" and the, dare I say, delightful, song "The Magic Spider." Even with a dancing goblin on stage, the California sextet brought even skeptics closer to the stage with their blend of textures influenced by Protest the Hero, Fair to Midland, and Powerglove to name a few.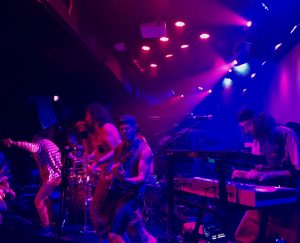 Conveying a feeling of isolation, lament, and existentialism in their music, Pennsylvania's Rivers of Nihil might very well be extreme music's next sensation. Weaving spacey, Between the Buried and Me esque passages with razor sharp sections akin to Decrepit Birth, "Sand Baptism," and "Old Nothing" had the crowd headbanging the whole way. Yet, by far the most powerful performance of the set, maybe even the whole night, was the closing number "The Silent Life" with its saxophone driven bridge trading off with a lonesome guitar solo. Reaching number 61 on the Billboard 200 with their 2018 release Where Only Owls Know My Name, expect big things from them.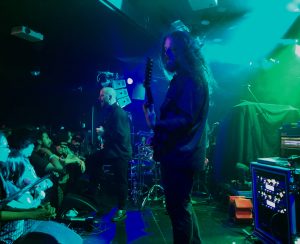 With seven appearances on the Summer Slaughter Tour, eleven if you could international portions, no band has had its name on the bill as many times as The Faceless. Those following the latest in metal news know that 2018 was a particularly unfortunate year for the band, specifically for founding member Michael Keene. A quick Google search will bring you more information on that, but nonetheless, The Faceless returned to New York stronger than ever. Running through all three parts of "Autotheist," as well as classic cuts "The Ancient Covenant" and "Xenochrist," it seems that the troubles of last year are hopefully in the past. Here's to a bright future for both Keene and the band as a whole.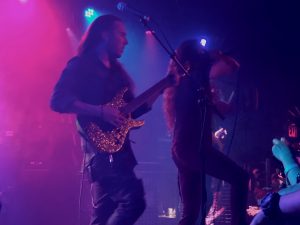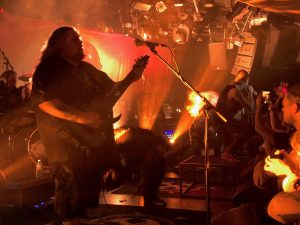 It's been over a decade since the pioneers of deathcore rose from the pages of MySpace, and with that time has come much change. Whitechapel released an album with clean vocals, Bring Me the Horizon became an alt-rock band, and Suicide Silence took a more nu-metal approach to things. Yet, as far back as The Diseased and the Poisoned, there was something different about Carnifex, something that has been steadily evolving from gruesome and br00tal to fierce and evil. It is this special something that gave Carnifex the biggest and most intense crowd of the night with circle pit fast enough to give the room a cool breeze.
Through their latest album, World War X, Carnifex have perfected the art of symphonic blackened deathcore (say that in one breath), drawing influence from Dimmu Borgir and Dark Funeral among others. While maintaining punishing slams and breakdowns, tracks such as "Visions of the End" transformed the pit from moshers to one long line of headbangers, their arms over each other's backs like a Spartan legion. Delivering stellar performances of older favorites "Lie to My Face" and "Hell Chose Me," it is clear that rinse-and-repeat breakdowns are a thing of the past with the dawn of World War X.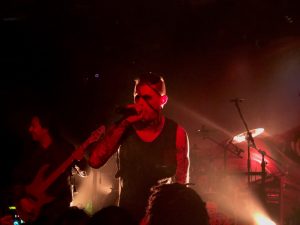 As the official veterans of the night, that is, the only band to be formed before 2000, Cattle Decapitation has only improved with age. Charging through a set containing the gnashing opening tremolo riff of "Your Disposal" from 2012's Monolith of Inhumanity and the 'funeral dirge for the world' notes of "Manufactured Extinct" off 2015's The Anthropocene Extinction, San Diego's finest showed no mercy to the crowd.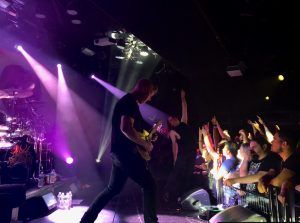 While live footage has made its way to YouTube in recent weeks, new offerings such as "Time's Cruel Curtain" and "One Day Closer to the End of the World" have yet to be given a promotional release. Taken from the band's next album, Death Atlas, they stand as the first tastes of things yet to come, alongside "An Extreme Indifference to Human Life," which made its debut earlier this year.  Despite the lack of an encore performance of "Kingdom of Tyrants" due to time constraints, Cattle Decapitation concluded their crushing set with "Pacific Grim," playing to a crowd as excited for their new album as they were physically exhausted.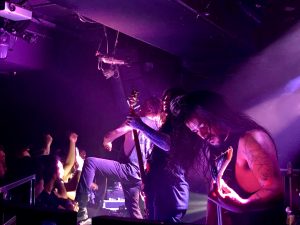 Keep your eyes peeled for Death Atlas, set for release Black (Metal) Friday. And be sure to visit your favorite record store to pick up World War X (Carnifex), God Hand (Brand of Sacrifice) and the back catalogues of this year's Summer Slaughter bands!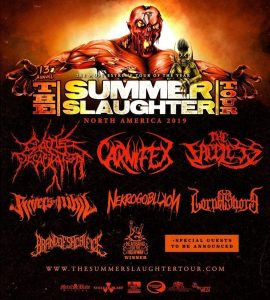 Remaining Summer Slaughter Tour Dates:
Aug-5 Asheville, NC @ Orange Peel
Aug-6 Atlanta, GA @ Masquerade
Aug-7 Greenville, SC @ The Firmament
Aug-9 Dallas, TX @ Gas Monkey Live
Aug-10 Houston, TX @ White Oak Music Hall
Aug-11 Austin, TX @ Come And Take It Live
Aug-13 Mesa, AZ @ Club Red
Aug-14 Los Angeles, CA @ 1720
For more from Alternative Control, find us on Facebook, Twitter, Instagram, Soundcloud, and bandcamp.