by Stefanie Botelho
Originally published in FOLIO:
"If you're going to have a magazine in 2012, there better be a point to it," says Mike Albanese, publisher of SPIN.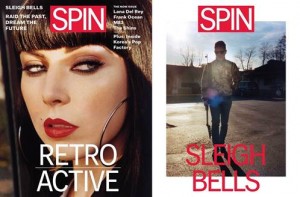 In what may seem like an obvious statement, Albanese manages to summarize the movement of the entire magazine industry. Print is often no longer substantial enough to act as a publication's sole business; but it still holds a place in editorial strategy and audience fondness. SPIN, with a lowered print frequency, slashed rate base and realigned digital focus, is positioning its print product to be just that.
The new SPIN, now published six times a year, has a larger trim size (up 9.5" x 12") and varied textures in-book. The cover has a matte finish (similar to Conde's WIRED cover treatment), but opening pages of the magazine are still glossy and bright. About a third of the way through the book, paper stock switches back to the rougher stuff the cover lives on.
On SPIN's editorial strategy, Albanese says the print magazine will serve as a "broad" platform for content; a home for cultural fodder surrounding the music industry. SPIN's website (and music player iPad app, and over 1,500 album reviews via Twitter) will still be devoted to its music mainstay.
The revamp follows a mass changing-of-the-guards at the publication. Former editor-in-chief Doug Brod and publisher Malcolm Campbell left in June; Caryn Ganz joined as online editor-in-chief, Christopher R. Weingarten as senior editor and David Bevan as associate editor in October. Ganz is the first to hold this position with the magazine.
Cutting print frequency and dropping rate bases (SPIN is down from 450,000 to 350,000) is often seen as a "trouble" flag in the industry. However, in this case, I applaud the magazine for thinking strategically and resizing its content portfolio. One might even view it as brave: downsizing print presence eliminates advertising opportunity, and risks alienating the Luddites of the SPIN audience. Such a shift is a gamble, even in the most sturdy media landscape.
Music rags are suffering: according to the latest FAS FAX report from ABC, Rolling Stone single copy sales fell 18.2 percent from second half 2010 to second half 2011. Subscriptions remained basically flat, eking up three percent YOY in the last six months of '11. SPIN's single copy sales dropped 35.2 percent from the last half of 2010 to the same period in 2011; total subscriptions are down 1.2 percent.
To reassess and reorganize may give these brands a second chance in the digital-first music scene, whereas plodding along in the same manner would lead to one end: closure. 2012 will tell whether the new SPIN (somewhere between a traditional magazine and coffee table book, according to Albanese) will be able to ride out the transition.
FOLIO: is a Norwalk, Connecticut-based magazine covering the publishing industry. Stefanie Botelho is the associate editor of FOLIO:. Before joining the publication, Stefanie was a freelance copywriter and an associate editor at Spork Press, a Tucson-based independent publisher. Stefanie also worked as a teaching assistant at Western Connecticut State University, where she received her MFA in Professional and Creative Writing.