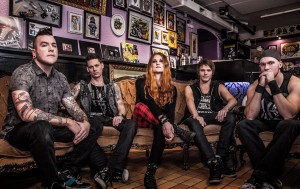 One great thing about running Alternative Control is that every once in awhile we get the opportunity to promote something or someone that is doing genuine good for the world.  That's the case with We Are The Catalyst and their cover of the song "Don't You Worry Child."  The Swedish alt rock quintet is donating all of the proceeds from track to The Fostering Network, a UK organization that provides resources for foster children and families.
Check out the moving video below:
I recently read Three Little Words, the memoir of a woman who grew up in foster care, and the video correlated with author Ashley Rhodes-Courter's experiences and probably those of many other foster children.  It's not an easy situation and even the most well-meaning foster parents can "fail" at rehabilitating emotionally scarred kids.  Rhodes-Courter's story was hopeful, though.  A long and turbulent road led her to her true family, and if you actually watched the video, you know that it ends on an encouraging note as well.  You also know that this message is endorsed by none other than Jerry Springer!
Click here to download "Don't You Worry Child."  (The only problem?  I don't know what "Skr 12" is.  How much is that in American dollars?  But hey, it's for a good cause!)
You probably won't be seeing We Are The Catalyst anytime soon because all their upcoming shows are in China… But if they tour the U.S., I'll bet they would be really fun to see live!

This post was sponsored by Independent Music Promotions.  All opinions are our own.