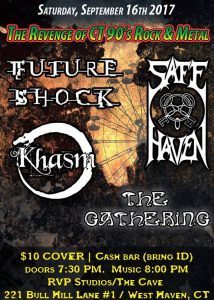 Psychic home brewer and bassist extraordinaire Keith Zalinger is a true believer in the maxim "Go big or go home."  In this case, Zalinger has turned a conversation at the bar into a reunion bash for four of Connecticut's best-loved 90s bands.  The Revenge of 90s Rock and Metal, featuring Future Shock, Safe Haven, Khasm, and The Gathering, will be held at The Cave in West Haven on Saturday, September 16th.  He was kind enough to answer a few questions for Alternative Control, and is also giving away two tickets to the show.  Enter to win at the end of this article!
Tell me about the significance of the lineup.
When I was first approached about getting involved, I had seen a post on Facebook by Matt Douglas (Safe Haven – guitar) who was playing a show with As Darkness Dies.  He was in the bar and someone he hadn't seen in a while mentioned how much he enjoyed (and missed) seeing bands like Safe Haven and Future Shock.  Others started chiming in with their memories of these shows, and suddenly I'm seeing people sharing pictures from the Future Shock days. People started talking, and Mike Montelius (Future Shock – guitar) approached about a re-formed Future Shock that could possible play a show with Safe Haven and other bands. The significance is that quite a few people were coming out to these shows to see several bands, mainly from the New Haven area, and not only did the bands end up knowing each other, the people in the audience did also. On top of that, people were having a great time and were coming back regularly. "Metal" was a bit of a dirty word in the mid-nineties, which I realize is going to be difficult for some people to wrap their heads around in 2017. Despite the prevailing musical climate at the time, many were still into metal and a small scene existed.  So the idea behind this show was to get some of these bands back together, since the music had mattered to so many people who were in that scene. We came up with six to eight bands, but some of the bands aren't talking, aren't playing, or are scattered all over the country, which made it difficult to realistically consider them.  So we had Future Shock and Safe Haven at the beginning, and later added Khasm and X-It (who unfortunately had to drop out because of a scheduling conflict). To fill the void left by X-It, we were fortunate to get an offer for an acoustic appearance by Ron Vanacore and Dan Weeden from the Gathering.  (This band predates the Dutch band of the same name.)
How many of these bands are you in?
I am involved in two: Future Shock was committed and we were trying to get other bands involved. Someone in that camp asked if it would be possible to get Khasm involved, as they were part of that scene.  In fact, Khasm was reputedly formed the same night after all four original members were at a Future Shock show (with the same FS lineup you will be seeing on September 16th). Future Shock also played as part of the very first Khasm show, so this was an amazing fit.  Khasm weren't actively playing when we started planning this event, so I ran it past the other members of the band who voted to participate.
Tell readers about The Cave — not one of the usual venues!
It's definitely not one that I considered at first.  However, Chris Popowski (Future Shock – Drums) had mentioned RVP Studios as a possible rehearsal spot, and they had an in-house venue ("The Cave").  As we traveled deeper down this rabbit hole, I noticed that it offered several benefits.  When it became difficult to get metal bands booked in traditional venues in the nineties, I had established a habit of doing shows in rental halls.  While these weren't one hundred percent perfect, they allowed us one thing that we hadn't had in bars and clubs: control.  Control over start/end time, control over the lineup, and a payment structure that would work for all involved. Looking at RVP/The Cave, and given that we were already limited to one or two possible dates to accommodate every member of every band's schedule, this was perfect.  While everyone has a preferred venue in the CT, these venues ultimately must do what's going to work best for them and their bottom line. On top of that, there's no way I can make any guarantees regarding number of attendees, which I think would help pitch the show to a club owner. This means the show will have to run until a certain time — usually 1:00 or 1:30 AM, and you're going to play on an available date when they can use you…. And this is all completely understandable, I have no complaints regarding that – but there was absolutely no way that this was going to work for the purposes of this show.  RVP/The Cave's room is roughly the same size as the Outer Space Ballroom portion, but with a larger stage. The location is not far off I-95 and conveniently located for anyone in the Greater New Haven Area.  We have a lot of flexibility on how the show is run.  The one downside was the lack of a liquor license.  We were able to find an off-premises bar service so now we will have a cash bar, which gets us over that hurdle.  The upside with RVP is that the show will start on time, and not run past midnight, which is helpful when many of the band and audience members are taking care of young kids or have a long ride home. It's one thing to tell people to suck it up and do the late time frame, but what's the main concern you see a lot people in bands voicing on Facebook regarding the scene? So attendance played a factor in this.
To play devil's advocate, why resurrect bands from 25 years ago?
There are several reasons these bands are playing again.  From my perspective, people had a great time at our shows.  They got to see 4 or 5 bands, and not the same band three or four times in a row.  If someone at a show didn't like bands A and D, then they'd like bands B and C. Most people made the effort to check out the bands they weren't familiar with; I think most of the bands we played with understood that it was in their best interest to make it worthwhile to come to a show.  If someone came out to a show back then, they were paying $3-10 for a ticket, another $10+ for a shirt, drinks, parking, maybe food, then a cassette or CD. Since we went to many of the same shows then, we knew how much was being spent because everyone else in the scene was doing the same.  Most of us didn't take that lightly, so you were getting the best show we could give. People were clamoring for this, on Facebook and in person.  If they weren't, I wouldn't have bothered. Having sat in on half of the rehearsals for this show, I can honestly say that these bands from 25 years ago can share the stage with the bands on the scene now and not look incompetent.
Khasm played a reunion show two years ago or so. Do you see Khasm or any of the other bands on this bill playing out more regularly?
I can definitely see at least one or two of these bands playing down the road.  In my opinion, Khasm is the most likely candidate to keep going.  Future Shock and Safe Haven are questions marks, while this is likely the last time you will see any incarnation of The Gathering for the near future. But I don't think this is a question that will have a solid answer until September 16th is behind us. Given that people have moved on to other bands, other projects, raising kids, planning for retirement, etc., I don't think anyone participating in this show is under a delusion of being a rock star. I will leave that up to each individual band to answer.  If there's a healthy amount of interest in this show and the turnout is good, that always helps motivate people.
How has Connecticut's heavy music scene changed since the 90s? Do you feel that these bands have had an impact on "The Scene" today? Or at least laid the groundwork for it?
First off, there's much more interest in metal overall. On top of that, the production values available to bands have progressed to a level we never could've achieved back then–at least not on an underground band's budget. I think the newer can be more technically proficient, and overall have a heavier/more brutal (albeit less dynamic) sound.
Then: We were paying more per hour (in some cases, even before you adjust for inflation) to sound less professional, in comparison. We were doing most of this by hand, including the flyers in the beginning (because computers were also beyond most people's budgets).  Future Shock and Khasm did videos that were a huge leap forward for those bands at the time, even though they seem primitive-looking today. Out-of-state shows were harder to come by.
Now: you've got Mr. Knob doing a majorly kick-ass flyer that you can put in front of hundreds of people in a span of hours. You can make something that would easily fit alongside most of the bigger bands, and you can almost do the same with a video, which can now be seen around the world. There's still the question of distribution, but that's a solvable problem. I am very happy to see quite a few CT bands playing all over the Northeast, and in some cases across the country and even in Europe.
I think, regardless of era, there are still some of the same challenges: show attendance, offering enhanced value when people have increased options for spending their time and money, and keeping one's own band productive and focused.
As to whether these bands have had an impact on the scene or laid any groundwork, I feel they might have at the time, and I do see it evident in subtle ways. Speaking for myself, it won't affect my bands' approaches or outlook.
In that vein, tell me about the respective band members' current, non-reunion projects.
Safe Haven:  Matt Douglas (guitar) is in As Darkness Dies, which is currently on hiatus but not dissolved.  Rob Taylor (guitar) is a solo artist, Wayne Petroskey is involved in any number of projects here and there, including being a guitar tech/stage manager for the Prog-Power Festival in Atlanta, which is a huge deal.  Chris Allen (vocals) also has a music project, although I am not sure if it's active.
Future Shock:  Chris Popowski (drums) has an acoustic duo, Rob Moore (Guitar) has been in more bands than I can count, and he also has "I Am Sinner," which I am sure we'll be hearing more about down the road.
Khasm:  Jason The Overlord (guitar/vocals) has Limbertwin (acoustic band) as well as some solo work, Elizabeth the Muse (keyboards/vocals) is involved in several orchestral-type projects, Gabriel the Fallen (drums) plays in at least 2 or 3 other bands, and I have Constellation Hypnos, which will likely keep me going for another 100 years.
The Gathering:  Ron Vanacore has been touring with Curse the Son, while Dan Weeden is involved in Limbertwin, and at least one other project.
As you can see, most of the people participating in this event have plenty going on after the last note is played.  🙂
Want to attend this epic event for FREE?? Enter to win two tickets using the widget below. And for more from Alternative Control, find us on Facebook, Twitter, Instagram, Soundcloud, and bandcamp.