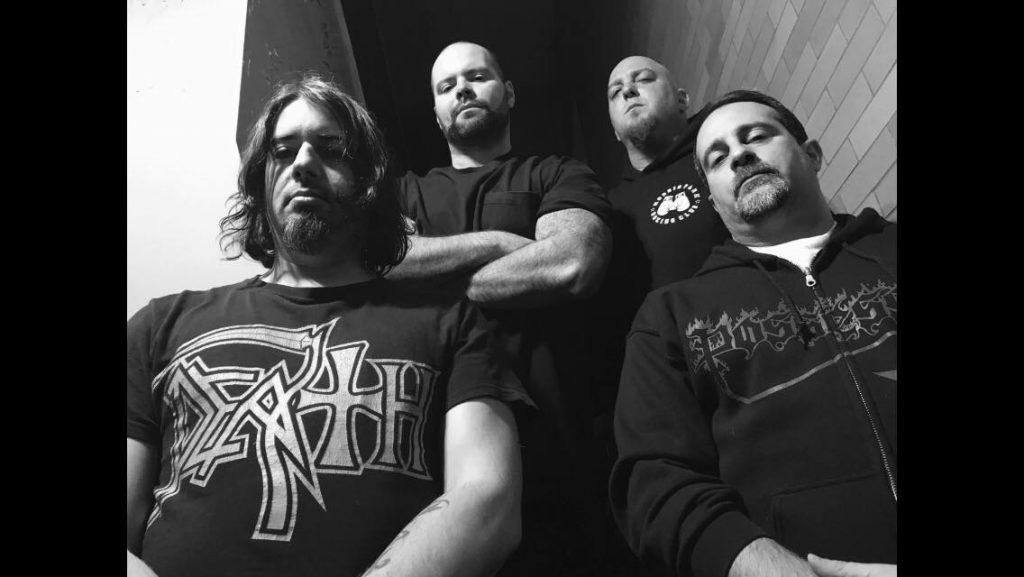 Rise to Burn of Westchester, NY are no strangers to Alternative Control, or to anyone in the local NY and CT metal scenes. They were formed in 2013, are fronted by singer and guitarist Will Checchi of the much-loved No Remission, and released their original promo album in 2014.
After much anticipation I finally have a copy of Rise to Burn's first full-length album in my hands. It is titled Baptize the Nightmare and depicts grim reapers baptizing a soulless demon child; I'd say we're off to a good start here.
The album begins with two very strong songs – 'A Return to Fire' and 'Redefine'. Both showcase very well Rise to Burn's ability to tastefully and skillfully blend thrash and melodic death metal. It's as if Slayer and At The Gates both made a baby with the same groupie at the same time.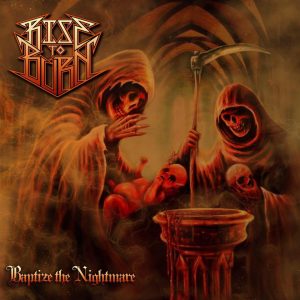 But as you'll soon see RTB isn't just a one-trick pony as the track 'Sixes and Sevens' shows a different and more experimental side of the band. As well the track 'Poison Creature' expands on this aspect, and is obviously the love song of the album. RTB also mixes in a little bit of a black metal side with the tracks 'Wishes for the Blind' and 'Dark Endeavor', but then really pulls out the Iron Maiden feel on 'Trigger' and 'The Great Demotion'. All these variations from track to track keep the album feeling fresh.
And then as a nice little cherry on top they hid a cover of Sepultura's 'Desperate Cry' at the end, with Will Checchi sounding almost identical to Max Cavalera.
This album gets my seal of approval. Rise to Burn has done a fantastic job of putting out a mature and well-rounded album that any fan of metal can enjoy. If that's you then head right to this link to get a digital copy of your very own. Also be sure to catch them on April 24th at Garcia's in Port Chester, NY with Valence and Striven, and then again at the Death Tribute Show on May 12th at Cherry Street Station in Wallingford, CT. And as always stay tuned to our Facebook page for more updates on Rise to Burn and all local metal shows.
Rise to Burn is:
Will Checchi – Vox / Guitar
Anthony Narvaez – Guitar
Joe Sacco – Bass
Tom Tulotta – Drums
For more from Alternative Control, find us on Facebook, Twitter, Instagram, and bandcamp.
This review was brought to you by Will Checchi giving me a free copy of the CD