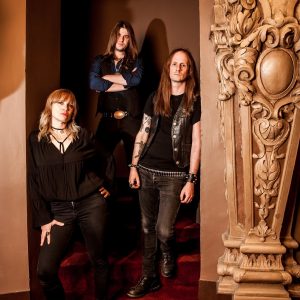 Sanhedrin entranced me when I saw them open for Khemmis at Brooklyn's St. Vitus in early 2017.  The ferocious trad/doom trio seemed to come out of nowhere, only playing a handful of shows a year — but on big stages, opening for national headliners. 
And now through some wizardous aligning of the metal scene planets, they will be gracing the floor of Fiddler's Green on Friday May 11th, along with Owl Maker, Lobsterface, and Kaos Reign.  Alternative Control shot a few questions over to the band so we could get to know them a little better before they come to town.  Below, bassist/frontwoman Erica Stoltz and guitarist Jeremy Sosville talk about the making of Sanhedrin's first album, the themes of their music, and their thoughts on today's music industry.  Check it out!
And yes, "wizardous" is a word.  Because this blog says so.
You guys are playing like a year's worth of your shows in the three months coming up, starting with Fiddler's Green in Stamford on May 11th… Is this the beginning of a world takeover?  Why now, two or three years after the band's formation? 
Erica Stoltz: It just kinda happened that way. We were invited out with Sabbath Assembly for what is our first road trip in this band. I am friends with Witch Mountain, who we are playing with in July, from way back. I sang on a tune on their first album in 2001.  We wanted to test some of the new material live before we recorded.
Tell me about your debut album A Funeral For the World, which came out in September 2017 — what was the writing process like?  What kind of response has it been getting? 
E: The response has been internet magic. Terrific and global. Each song came about in a different way, some immediate and just spilling out while others took time. "Collateral Damage" didn't come together until we recorded it.
Jeremy Sosville: It's been very gratifying to put a record out through the DIY channels initially and receive such a positive response. You can say what you want about today's music industry, but putting out this record has proven to me that the underground is and always will be thriving so long as there are people passionate about music.
What's your favorite track on the album? 
E: "Riding on the Dawn" — it's nostalgic for me and I love the vocal harmonies.
J: I can't pick a favorite honestly. I'm proud of all of them for their own reasons.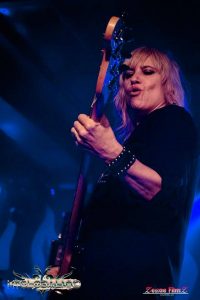 Your Facebook bio says your lyrics are about "real-life themes of inner struggle and social commentary"?  Are they inspired by any particular personal struggles?  Or particular social ills?  (Of which there are many to choose from these days…) 
E: Ya know, instead of listing off a bunch of current affairs I will say common themes are the savagery of the human condition… How we all possess the capacity for good and evil, how even the most composed of us have a feral side.
What musicians or bands do you count as inspiration? 
E: Dio, I love and miss him.
J:  I could write a book answering this question, so I'll defer!
Jeremy is in Black Anvil as well — do you find that to be more of a door-opener or a scheduling problem?  Or somewhere in between lol….
J:  Both maybe? I'm really just happy to be in two bands with really inspiring people and friendships, and I feel lucky that both bands don't really interfere with one another's productivity. Both bands keep me inspired and constantly progressing. That said, it's definitely a balancing act sometimes.
What is the music scene like in Brooklyn?  I hope that's not a dumb question, I really want to know!
J:  It's quite diverse. I would say it's more a bunch of small spread out scenes as opposed to a cohesive thing you may find in smaller towns and cities. We're lucky that there are places for us to play and people making sure that music can thrive in a city where survival is so expensive.
I can't scroll half an inch in my newsfeed without seeing articles about how the streaming age is killing music sales and thereby making life much more difficult for bands.  What do you think motivate fans to "support" a band with more than just a Spotify stream? 
J: The digital age has created a lot of challenges, including devaluing music financially. On the flipside it's also given a lot of power back to independent artists. Every band has to just do their best to make the most of their circumstances and find what works for them to get their art out there.
E: When I was a kid I got a rush out of going to the record store, flipping through the bins and finding out about bands because I like the album cover or they were in the metal section. I think the equivalent of that must be happening online.
What positive things do see going on in the music scene right now? 
E: I like all the internet radio stations.
J: Same here. I like how accessible new music is to discover and share with people you know who may also dig it. It's the reason we went from being an unsigned band to a signed one.
And there you have it, folks: literate answers and positive thinking.  Sanhedrin will be playing their powerful trad metal tunes for YOU, for FREE at Fiddler's Green in Stamford on May 11th.  Facebook event here — see ya on the flip side! 

Find Sanhedrin on Facebook and bandcamp.  And for more from Alternative Control, find us on Facebook, Twitter, Instagram, Soundcloud, and bandcamp.