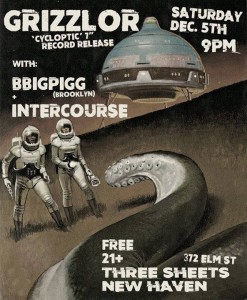 Grizzlor (Record Release)/BBIGPIGG/Intercourse
Saturday, December 5
Three Sheets
372 Elm Street, New Haven, CT, 06511
9pm – 21+ – FREE
We're all getting an early Christmas gift in the form of this show, which features two awesome homegrown noise rock bands, and another awesome one from New York City.
Alternative Control favorites Grizzlor, who were just featured in the newest issue of Revolver, just released, their truly excellent Cycloptic 7″ EP on Hex Records and this show is the official release for this blistering platter of noise rock. Trust me, I reviewed the record for another publication and it smokes. Plus, I even ordered a copy, which just came in a few days ago. You'll definitely want this, so if you get down to the show, save some beer money for merch.
Not only is Grizzlor peddling a new record, but self-proclaimed Brooklyn "sewer punks" BBIGPIGG also have a killer new 7″ in the form of Din-Din on Money Fire Records — so hold back on the beer and pick up some killer loud and weird jams. Plus, they shred.
Intercourse, who are one of the finest purveyors of non-cookie cutter hardcore in state,  round out the bill. They are now a five piece, so I'm sure they'll hit even harder. And who knows what kind of shenanigans lead singer Tarek Ahmed will get into on stage. Plus, they have some very interesting looking tie-dyes t-shirts.
Also, the show is FREE. So no complaining about cover charges on this one. You get three killer noise rock at the "right price."  So get your ass down there and get your weird on.