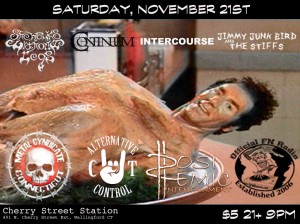 Is it a record release?  Nope.  Is it someone's birthday?  Nope.  Are we raising money for a noble cause?  Nope.  November 21st at Wallingford's Cherry Street Station will just be a show… An awesome show.  The first concert Alternative Control has sponsored in ages and our very first at Cherry Street, we're planning to tear the roof off the place.  (Figuratively, of course… We're all too old and well-mannered to actually damage property.)   Check out the handpicked lineup below:
As AltCtrl music columnist Christopher Baldwin puts it, these Connecticut metal stalwarts are "experts at crafting a walloping sequence of grooves."  But despite brutal riffs and a ferocious stage presence, the video below shows that She Walks Without Legs isn't too tough to have a sense of humor.
This male-backed schmoove jazz band has somehow worked their way onto two metal shows… In one day!  After playing Crossing Rubicon's CD release party in the afternoon, they'll be heading down to Cherry Street for this shindig.  Called "macabre and tormented" by AltCtrl's Ryan Bair, Continuum is a standout band in any lineup they're part of.  Probably doesn't hurt having a super-spy for a drummer….
AltCtrl staffer Tom Pizzola calls this New Haven outfit "our favorite purveyors of weird, noisy hardcore."  We're glad to have these tortured souls adding some variety to the bill — and if you watch their video for "Town Plot Prowler," you'll see that this band isn't afraid to address the sick and twisted aspects of humanity.
Jimmy Junk Bird and the Stiffs
"Hey Jessie, that's your band!"  Yes, it is.  JJB's singer and drummer will also look familiar if you've read this blog more than once.  Clearly we're in need of a cool music video — but until we make one, you'll just have to listen to our tunes and use your imagination.  With Baldwin's grotesquely descriptive lyrics, that shouldn't be too hard…
We're very happy to have support from other local media and promotion entities for this show — Official FN Radio will be broadcasting live and Jesse James from Posidemic 'Ntertainment will be MC-ing.  Metal Cyndicate is also helping us spread the word.
Tune into OFNR on November 17th to hear Knob's interview with me and the rest of the Junk Birds.  …And of course, see you at the show!
This show is $5, 21+.  Doors open at 8 pm and music starts at 9:30.