Last week, Alternative Control premiered Auditory Armory's video for their cover of Type O Negative's "Love You to Death."  This week, I talked with vocalist/guitarist April Rose about the where the band's been, where it's going, and the politics surrounding female-fronted acts.  Read on!
I really enjoyed your video for "Love You To Death"! Thank you for inviting Alternative Control to premiere it.  What made you decide to cover this song?  Can you tell me a little about the making of the video?
April Rose:  We originally decided to cover this song for a Halloween-themed gig.  At first, we were hesitant — we thought, "How could we do Justice to this song that we all love?"  But we decided to try it, and it went over very well with the audience.  It's a great song and very fun to play, so we chose to record our version and put it on an album.
According to your bio, Auditory Armory has been around since 2011 with mostly the same lineup.  When so many bands fall by the wayside after two or three years or have a revolving door of members, what has kept you guys going all this time?  Any tips for the rest of us??
AR:  I was actually thinking about this the other day!  I think what helps us is that we have all known each other for years, even prior to the forming of the band.  Also, none of have big heads or egos, so we try to work through any conflicts or differing opinions.  We try to maintain the mindset that we must do what is best for the song, not necessarily what is best or "convenient" for us individually as musicians/performers.
One tip I would give is to be open to listening to others' ideas.  There is always something to be learned or considered.  We also try not to jump the gun with saying, "no way, that wouldn't work"; if someone has an idea, we try it.  If it sucks, we won't do it again (haha), but if it turns out great, then all the better!  You cannot learn if you do not try.  You will be surprised at ideas you wouldn't have necessarily thought of yourself.  We have to recognize that everyone is coming from a different perspective and background.
As a follow-up to that, how would you say your music has grown since the band's inception?  Has the songwriting process changed or stayed the same?
AR:  We are continually evolving.  When the band started, our sound was more "alternative" with influences drawing from Alice in Chains, Tori Amos, etc.  But our sound now is darker, slightly heavier, and more progressive.  In the beginning, we were mainly taking my songs that I originally wrote acoustically and arranging it for a full band.  Now, I bring the bare bones/foundation of a song idea to practice and we build on that together.  Sometimes Dennis, our other guitarist, will bring some riffs to the table too.  Our songwriting process is more collaborative, and therefore has more of a solid togetherness to it.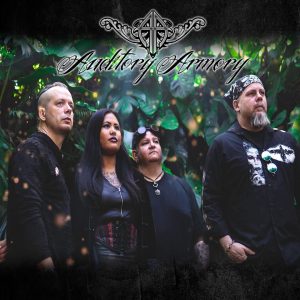 Your bio leads with "Auditory Armory is not your average female fronted band."  What would you consider an "average female fronted band," and what do you feel distinguishes AA?
AR:  I feel that a lot of female-fronted bands in rock music the last ten years have subscribed themselves to a very generic, "radio-friendly" sound.  It's difficult to tell them apart.  A lot of the voices and chord progressions sound the same and are not unique or distinct.  I guess that can apply to a lot of hard rock bands in general though, not just female-fronted bands.  I have also noticed that female-fronted rock bands tend to focus on the superficial (lyrically and physically).
My desire would be that women in rock would encourage other female musicians, no matter the body type or style of music and to write lyrics with deeper substance.  Also, unfortunately there is still a little of an expectation that women can only be the singer or rhythm guitarist in a band.  But there are also other female musicians defying this stereotype too, which makes me happy.  Lately, I've seen a rise of feminine power in music and a lot more female lead guitarists, drummers, and bassists.  Some of my favorite female-fronted bands that exemplify this are Eyes Set to Kill, Die So Fluid, Sarah Longfield, Arch Enemy, Jinjer, and Lacuna Coil to name just a few.
I believe that what sets our band apart is that we don't have a generic sound, and that we have a frontwoman that not only sings but plays rhythm and lead guitar.  I also have a distinct vocal timbre that can be edgy, but also ethereal-sounding, which is due to the fact that my two biggest vocal influences are Maynard James Keenan and Tori Amos.  I've been told that I sound like Alanis, Evanescence and Cristina Scabbia.  I don't feel like a carbon copy of any of these vocalists, although I respect them greatly.  Our lyrical content also delves deeper into societal issues and the human psyche.  We have crafted a unique sound, which is a blend of hard rock, metal, ambient music, and progressive rock.
To play devil's advocate regarding some music articles I've read recently, what would you say to folks who advocate that "female fronted is not a genre"?
AR:  I don't think of it as a genre, just a description.  It will be soon that the distinction won't matter, but we are still on the journey to let that stereotype go.  There have always been great female musicians out there, but the only ones we heard of for years were rock bands that were predominantly male.
Your bio also mentions plans for a Midwestern tour in fall of 2018.  Were you guys able to do that?  How did it go?
AR:  We did a tour of Chicago, Wisconsin, and Minnesota in September for our "Mind Over Matter" tour.  It was booked by Lee Swiatkowski of LS Management & Productions.  It was a fun experience — I got to road-trip with my band family, our dog and cat, in an RV.  New sights, new sounds, new people.  We reached new audiences and also got to perform for friends and family who live in those areas.
A moving moment that happened during the tour is when a new fan came up to as after the show and told us that before knowing there would be music at that club that night, his original intention was to "get as drunk as he possibly could, then go home and blow his brains out."  It's really chilling.  He had never heard us or the other bands that night before; he said that after hearing the music that night, that he realized there was something to live for.  He graciously bought merch from all the bands, chatted with us, and followed our pages.  I hope he is still doing well.  It just shows you how powerful music is, and that you never know who you might impact in the audience.
What are some of AA's proudest moments as a band?
AR:  That moment on tour when our music inadvertently saved a life, and when we played at Kink Fest in front of thousands of people and opened up for In Flames, Evanescence, Hell Yeah, Sleepwave, and Sick Puppies.  Also when we played to thousands of people on New Year's Eve 2016/17 (Rockin' The Cloud) opening up for Fuel.  And just the fact that we can perform with musicians that we grew up admiring and listening to, like Eyes Set to Kill, Full Devil Jacket, Straight Line Stitch, and Orgy.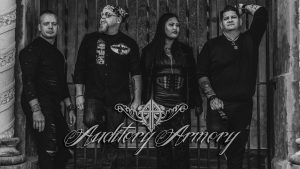 What bands in the Florida metal scene would you recommend to Alternative Control's readers? 
AR: Let's see…Florida has SO much talent.  But to name a few, I would recommend Detoura, Mindscar, NoSelf, Cruel Curses, Comin' Home the Band, Thicket, The Glorious Rebellion, All Hail the Queen, F.I.L.T.H., A Fine Line, Otherworld, Red Calling, Modern Mimes, Jupiter Groove, Sunshine & Bullets, SynNine, 13th Angel, Astari Nite, Copper Bones, Who Was I, I Owe Nothing, Denied Til Death, and SFG.  We have a little bit of everything here, from alternative, death metal, doom metal, nu metal, industrial, goth/new wave, etc.  Also, in Chicago — my friends Guardsman, Jury of Fears, and Amsedel are ones to add to your playlist too!
What do AA fans have to look forward to in 2019?  Any juicy details on the upcoming EP?  And is there anything else you'd like to tell our readers?
AR:  We are finishing up writing new music in 2019 with prospects on recording the songs after April this year.  We are working on a 4-song EP (all original songs) and hope to have them ready for release by Fall 2019.  We are also looking on touring more towards the end of the year in support of the new EP.  We haven't decided on a title for the new release, but I can tell you that our sound is constantly evolving.  The songs are becoming a little more technical, a little darker, and a little more progressive.
Thank you all for your support and for taking the time to check us out!
Anytime, friends, anytime…  Be sure to find Auditory Armory on Facebook and all the rest!
For more from Alternative Control, find us on Facebook, Twitter, Instagram, Soundcloud, and bandcamp.