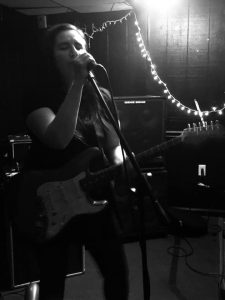 It was a stormy, stormy night….  Originally conceived to be a thrash band, that idea for Wolf Blood was short lived.  It's hard to pin a genre on this heavy quartet out of Minneapolis, but thrash is not one that comes to mind.  I was thinking more sludge/psych/doom…   But anyhow, the band just put out a second album, aptly titled II, and it has some serious legs — even getting reviewed on June 2019's Doom Charts!  As my friend and fellow columnist Jade Siren pointed out, Wolf Blood uses both male and female vocals BUT does not limit themselves to just one genre (except "not thrash" lol).  The vocals as well as the overall vibe of the music can go from dreamy and melodic to harsh and guttural in a single beat — a feral listening experience for sure.
Luckily, my chat with Wolf Blood was not harsh or feral.  The band did acknowledge that they "confuse so many reviewers on what genre we are."  "We're an American band," they joked.  On the floor of Guido's Speakeasy on the final night of Maryland Doomfest 2019, Wolf Blood did plenty of joking with the crowd, re-introducing themselves as Clay Aiken, U2, and more following each song.  They had the small room packed, with audience members commenting that their set was *the* one not to miss on Sunday.
Have a listen to our conversation to find out more about how the band got together, the oft-wondered but seldom asked "chick question," and how a show went terribly wrong in New Jersey….
For more from this up and coming band, find Wolf Blood on Facebook and bandcamp.
And for more from Alternative Control, find us on Facebook, Twitter, Instagram, Soundcloud, and bandcamp.
Thumbnail picture borrowed from Facebook.  Live shots by the interviewer.